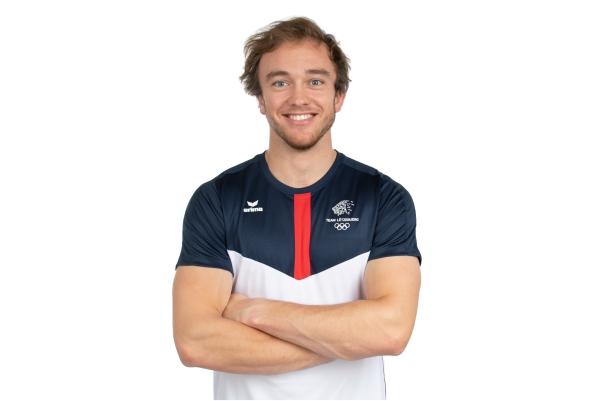 Matthieu Osch; Credit: COSL
On Sunday 13 February 2022, Luxembourg's Matthieu Osch finished 28th in the men's giant slalom, an Alpine skiing event, at the 2022 Winter Olympics in Beijing.
The event took place at the "Ice River" course at the Yanqing National Alpine Skiing Centre, north of Beijing, with start and finish altitudes of 1,925 m and 1,501 m respectively, amounting to 424 m vertical drop, with 49 gates (46 turning gates) in the first run and 47 gates (46 turning gates) in the second and final run.
A total of 89 competitors from 62 countries took part in the first race with 33 DNFs (did not finish) and two DNS (did not start), leaving 54 competitors to line up for the second run, where the podium places for the men's giant slalom will be decided. Mr Osch, 22, from Ettelbruck, finished 34th in the first run.
Following an initial delay of an hour and 15 minutes due to heavy snow, the second run started at 15:00 local time. Mr Osch improved his overall ranking to 28th place in the final tally. There were two DNS in the second run.
Mr Osch finished in the top 30, a considerable jump from his 62th ranking in the previous Winter Olypics men's giant slalom at the PyeongChang in 2018.
Mr Osch had earlier finished 28th in the slalom and 31st in the giant slalom at the 2021 World Championships and again 28th in the giant slalom at the Lillehammer 2016 Winter Youth Olympic Games.
After the second run, the podium finishes for the men's giant slalom at the 2022 Winter Olympics were as follows:
Marco Odermatt(Switzerland) - Gold
Zan Kranjec (Slovenia) - Silver
Mathieu Faivre (France) - Bronze
Matthieu Osch will next compete in the men's slalom event on Wednesday 16 February 2022.
Luxembourg's Olympic and Sports Committee (COSL) selected both of the Grand Duchy's team members, Gwyneth Ten Raa and Matthieu Osch, as Team Lëtzebuerg's flag bearers for the opening ceremony.
National Coach Gilles Osch, who is also the father of Matthieu Osch, competed at the 1993 World Championships in Morioka Shizukuishi, Japan, finishing 41st in the slalom and 43rd in the giant slalom.
According to the 2021/2022 International Ski Federation (FIS) points list, Matthieu Osch has a global ranking of 1,025 in giant slalom and 623 in slalom Alpine skiing.