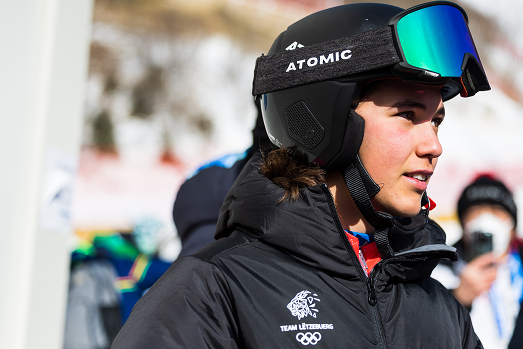 Gwyneth TEN RAA; Credit: ATP / Qian, provided by COSL
On Monday 7 February 2022, Luxembourg's Gwyneth Ten Raa recorded a DNF (Did Not Finish) in the first run of the Women's Giant Slalom, an Alpine skiing event at the 2022 Winter Olympics currently underway in Beijing.
The event took place at the "Ice River" course on Yanqing National Alpine Skiing Centre, north of Beiging, with start and finish altitudes of 1,925 m and 1,501 m respectively, amounting to 424 m vertical drop, with 47 gates and 44 turning gates. Several top skiers found the course difficult, including two-time alpine skiing gold medallist and defending champion, Mikaela Shiffrin (United States), as well as the 2021 World Cup winner, Marta Bassino (Italy), who could not finish the course; out of a total of 82 competitors, 19 were classified as DNF.
Ms Ten Raa did not line-up for the second run, where the podium places for Women's Giant Slalom were decided and effectively leaving the Luxembourg competitor without any ranking in this event. Just 60 competitors took part in the 2nd run.
After the second run, the podium finishes for the women's giant slalom, 2022 Winter Olympic Games were as follows:
Sara HECTOR (Sweden) - Gold
Federica BRIGNONE (Italy) - Silver
Lara GUT-BEHRAMI (Switzerland) - Bronze
Qualifying for the national Olympic team in her first year of international racing, Ms Ten Raa became the first woman to represent Luxembourg in Alpine skiing at the Winter Olympics and only the fourth skier in history. The three other Olympian skiers for Luxembourg are Raoul Weckbecker (1936), Marc Girardelli (1988, 1992 and 1994) and Matthieu Osch (2018 and 2022). She won the Luxembourg Giant Slalom title in January 2020, at the age of 14.
Ms Ten Raa also made history as the youngest Alpine skiing athlete competing at the 2022 Winter Olympics, at the age of 16 years, 8 months and 24 days at the opening ceremony (4 February 2022).
Luxembourg's Olympic and Sports Committee (COSL) selected both of the Grand Duchy's team members, Gwyneth Ten Raa and Matthieu Osch, as Team Lëtzebuerg's flag bearers for the opening ceremony.
Her best International Ski Federation (FIS) points finish in Giant Slalom races was in January 2022, gaining a 16th place in Kronplatz, Italy.
Gwyneth Ten Raa is also down to participate in the Women's Slalom event on Wednesday 9 February 2022.