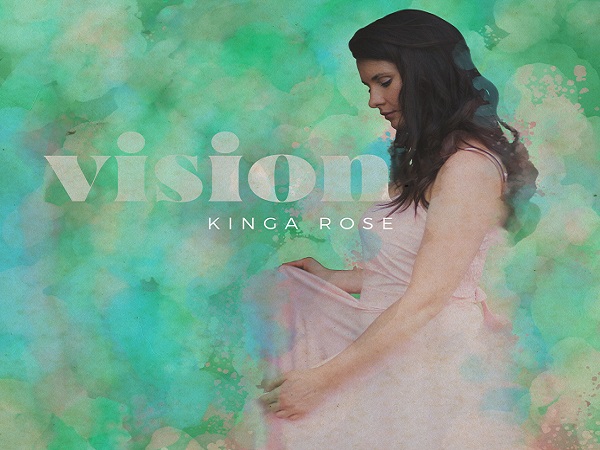 "Vision" album cover; Credit: Kinga Rose
Kinga Rose, a Hungary-born singer-songwriter based in Luxembourg, will present her debut album "Vision" to the public at Altrimenti cultural centre in Luxembourg-Ville on Saturday 1 October 2022 at 20:30.
Kinga Rose is best known in Luxembourg for a series of live radio performances in 2020 and 2021 which attracted the interest of some of the top musical producers in the Grand Duchy and led to a record deal with Timezone Records in Germany.
She is classically trained as a pianist and singer but also studied jazz singing in Hungary. She currently studies jazz piano at the Conservatoire de la Ville de Luxembourg. This mix of classical and jazz music, along with pop influences, have made Kinga Rose recognisable as an artist who blends Eastern European and Western soundscapes.
In 2020, Kinga Rose was inducted into The Grund Club asbl, a collective of some of the top singer-songwriters in Luxembourg, and began the pre-production of her debut album "Vision", featuring string and horn arrangements by the Grand Duchy's most renowned musical arrangers and with the executive production of Lata Gouveia.
Her first two singles, "If I can't breathe" and "Weeping Willow", are already being played on the main radio stations in Luxembourg. On 21 January 2022, "How Else" was the latest track to be revealed ahead of the offical album release on 25 February 2022. "Vision" is available on all the usual platforms.
Further information and tickets are available on the website of Altrimenti cultural centre: https://altrimenti.lu/activites/concert-kinga-rose/?fbclid=IwAR0yNOwBiHQDvNFId_ciPhLsIrEsGhgLRs0CcuT3HQ6upqQ8QZ4BMd4ZBcA