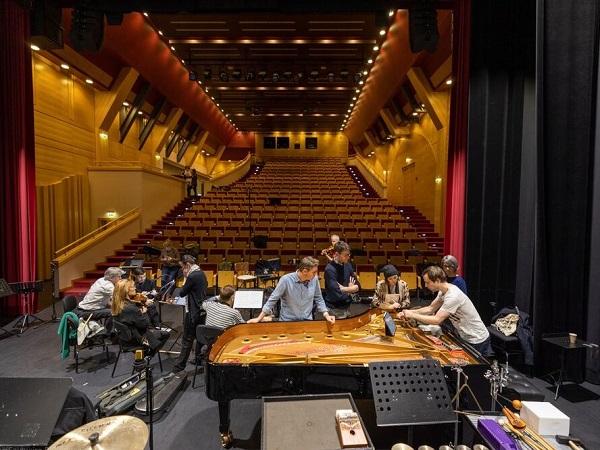 Credit: neimënster
Neumünster Abbey (neimënster) has announced that it is hosting a concert by the Luxembourg Composition Academy on Saturday 20 November 2021 at 11:00.
Since 2015, the Luxembourg Composition Academy, the only composition residence in Luxembourg, has offered young composers the opportunity to work alongside professional musicians.
Once again this year, eight young artists from all over the world are meeting at neimënster from 14 to 20 November to work on a new creation. These artists are supervised by Georges Aperghis and Clara Iannotta, directed by Julien Leroy and accompanied by the musicians from United Instruments of Lucilin.
At the end of the residency, a closing concert by the Lucilin musicians will present the works composed by the residents. The short pieces give a glimpse of the musical universe of each participant. A creative process that the public is invited to follow by meeting the composers during intermission or at the end of the show, to discuss and meet with the musicians.
Since 2015, United Instruments of Lucilin has teamed up with neimënster to present a composition academy unique in Luxembourg which offers eight composition students the opportunity to work for a week on the development of a piece, but also to attend workshops, conferences and individual tutorials in an environment conducive to discussion and inspiration on the neimënster site.
This year's musicians in residence are: Julien Leroy (France), Darcy Copeland (USA), Marina Khorkova (Russia), Yoko Konishi (Japan), Martyna Kosecka (Poland), Joshua Mastel (USA), Jug Marković (Serbia) and Sungwon Shin (Korea).
This residency, which succeeded the Composition Summer School, is organised every year in November, and is now associated with the "Rainy Days" festival of the Philharmonie. Under the slogan "Come together again", this new edition of the festival, taking place from 12 November to 5 December 2021, will try to prove that now more than ever music and the arts in general embody and inspire encounters with artists and form bridges with other disciplines.
This year's festival is also an opportunity to discover "Driwwer drënner drop", the new creation by Luxembourg composer Catherine Kontz, who invites the public to follow her on a stroll through the old quarters of Luxembourg-Grund. On 27 November 2021 (at 11:00 and 14:00), Ms Kontz will serve as a guide for the curious, but also for hikers. The walk will stop on seven islets, home to around 140 musicians aged between 5 and 18 years old.
By inviting young composers to compose concise pieces, the Luxembourg Composition Academy aims to allow them to devote themselves to their score, giving a glimpse of what the contemporary music of tomorrow could represent.
Entry to the closing concert on 20 November is free but reservation is required via email: billeterie@neimenster.lu.