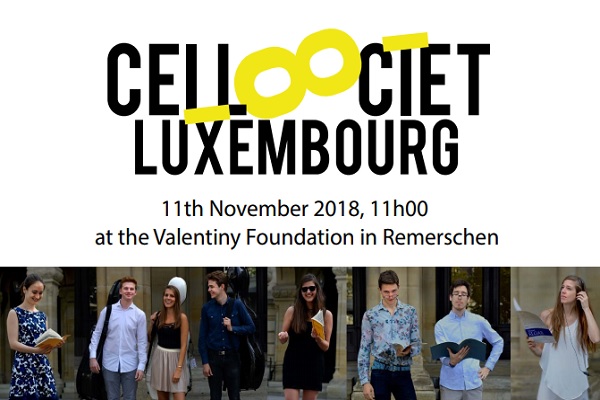 Eight young Luxembourg cellists are gathering to play their first concert on 11 November 2018 at 11:00 at the Valentiny Foundation in Remerschen.
The new group Cello Octet Luxembourg was created in the summer of 2018 when eight young cellists, including Nora Braun, Tom Feltgen, Pierre Fontenelle, Beatriz Jiménez, Benjamin Kruithof, Caroline Mirkes, Anik Schwall and Yves Tordy, decided to combine their talents. Having studied in Luxembourg's conservatories, the musicians know each other since childhood, have crossed during masterclasses and internships and will soon meet again at for their first concert together, taking place at the Valentiny Foundation next month.
The programme includes works by Debussy (Beau Soir), Fauré (Pavane, Après un rêve), Opera Italiana (excerpts from operas arranged by Christophe Mirkes), Ginastera (Pampeana arranged by Pierre Fontenelle) and Piazzolla (Four Seasons).
The initiator and organiser of the project is Caroline Mirkes, one of the group's cellists and the concert is organised by Open Sea Productions Asbl and Performers.lu and supported by the Ministry of Culture of Luxembourg.
Tickets for the octet's first concert cost €22 via www.performers.lu/shop or email team@performers.lu. Tickets cost €20 on the night itself.