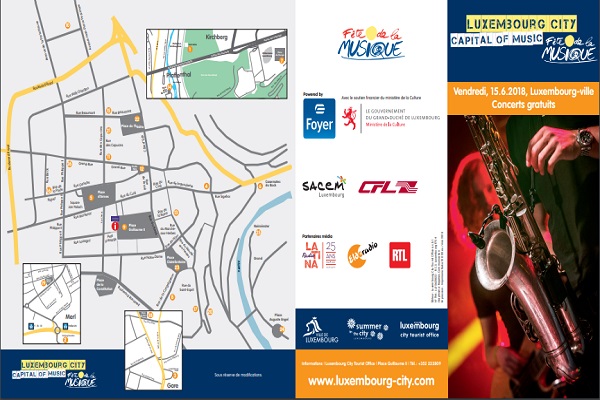 The programme for this year's Fête de la Musique in Luxembourg City has been announced.
The 2018 edition of Fête de la Musique, taking place on Friday 15 June 2018 from 07:00-01:00, takes on the slogan "Luxembourg City, Capital of Music", offering a decentralised and diversified programme with over sixty concerts in twenty-six locations.
As usual, the Fête de la Musique is open to all genres of music and includes many discovery spaces dedicated to emerging talents. The concerts will take place in twenty-six places and eight districts of the capital, including residential areas, to be closer to the people and to bring the idea of ​​the Fête de la Musique to the public: Centre-ville, Gare, Kirchberg, Merl-Belair, Hollerich P&R Bouillon, Pfaffenthal, Grund and Gasperich.
The festival will begin at 07:00 at the Kirchberg funicular tram stop and end at 01:00 on Saturday morning in Saint-Esprit Street and in the Grand-Rue.
Entrance to all concerts is free. The public is encouraged to use public transport.
Details of the concerts and partners are available on https://www.luxembourg-city.com.