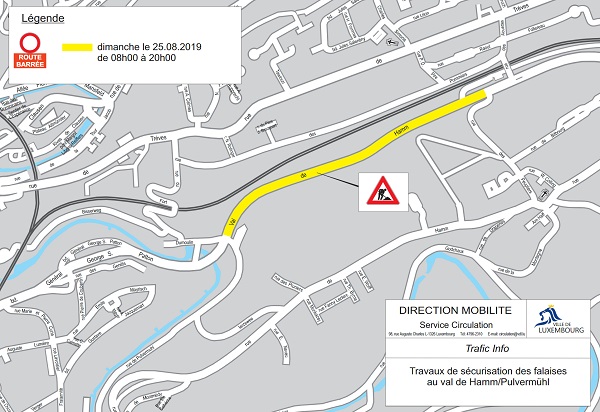 Safety works Luxembourg-Hamm; Credit: VdL
Traffic adaptations are foreseen for this Sunday in Luxembourg-City in the context of the Skoda cycling race, along with construction works at the Val de Hamm/Pulvermühl.
The Forest Service of the Ville de Luxembourg (VdL) will be carrying out work to secure the cliffs and rocky slope at the Val de Hamm / Pulvermühl on Sunday 25 August 2019. Between 08:00 and 20:00, the section between Rue de Pulvermühl and Rue des Peupliers will be closed in both directions. Traffic from the east (A1 motorway) as well as from the north (A7 motorway) will be diverted to Kirchberg and then to the city centre.
Commuters wishing to go to the airport from the Luxembourg-Gare district during this time are advised to travel via Pont Buchler and the Gluck roundabout towards the Kirchberg plateau before rejoining the A1 and taking the "airport" exit. For the duration of the works, access will be permanently guaranteed to residents of Val de Hamm and Pulvermühl.
At the same time, the "Festival cycliste Skoda Garage Serge Tewes", organised by the association "Sport a Fräizäit Zéisseng", will impact traffic in Cessange. Residents of the concerned streets, who require the use of their vehicle(s) are asked to park it outside of the area where parking will be prohibited from 08:00 and 10:00 respectively on Sunday.
Appropriate signs and detour routes will be put in place for both events.
It should be noted that bus lines 29 (Hamm) and lines 2 and 4 (Cessange) will be affected during this time. In fact, the Pulvermühl district will be served by a minibus shuttle running between the Gare-Rocade and Pulvermuhl-Hammerdällchen stops.
For further information, including adapted bus timetables, visit the vdl.lu website.