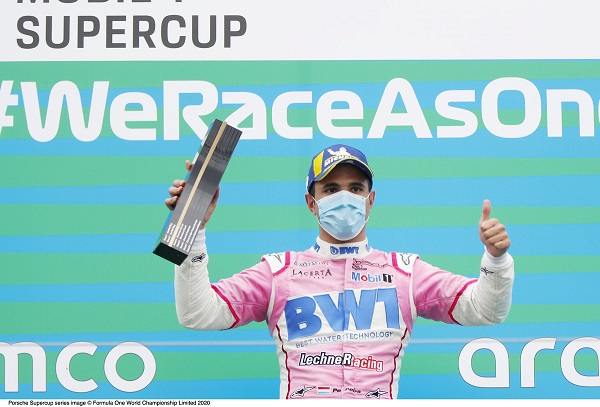 Dylan Pereira; Credit: © Porsche Mobil 1 Supercup, Budapest 2020
Luxembourg racing driver Dylan Pereira competed in the third race of the 2020 Porsche Mobil 1 Supercup over the weekend in Budapest, Hungary, after securing his first victory of the season last week.
This time, the Luxembourger excelled during the free practice, obtained pole position, won the race and increased his advantage at the head of this competitive championship, which accompanies the Grand Prix of Formula 1.
The Hungaroring circuit is one of the most complicated in the championship, because it is very demanding from a technical and physical point of view and is short and narrow with slow corners, where it is quite difficult to overtake.
During the race, Dylan Pereira took advantage of his pole position, got off to a very quick start and managed to stay ahead of his rivals. After five minutes of racing, an accident on the finish line required the entry of the safety car. On resumption, the Luxembourger maintained first place, led the race from start to finish and had the fastest times on several occasions.
This marks another victory for Dylan Pereira who took pole position and the race victory, repeating his double success last season at Spa-Francorchamps. He now leads the 2020 Porsche Mobil 1 Supercup with 22 points.
Dylan Pereira will return to the track in two weeks, from 31 July to 2 August 2020, for the fourth race of the 2020 Porsche Mobil 1 Supercup at Silverstone, which will open the British Formula 1 Grand Prix.