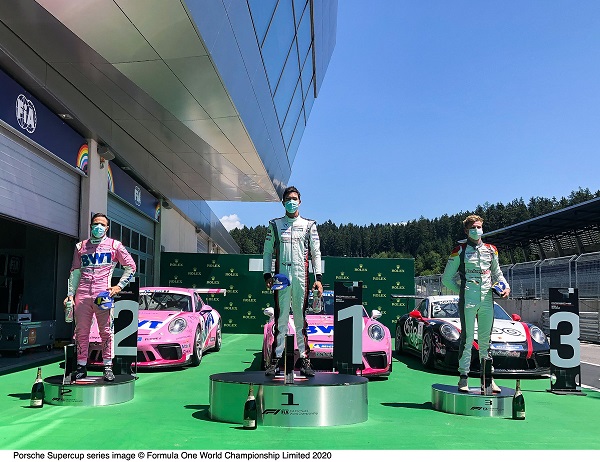 Credit: © Porsche Mobil 1 Supercup, Spielberg 2020
Luxembourg race car driver Dylan Pereira has ranked 2nd at the start of the 2020 season of the Porsche Mobil 1 Supercup over the weekend in Spielberg, Austria.
Surrounded by mountains, the Red Bull Ring is a fast circuit, packed with climbs and descents, with slopes of up to 11% and difficult turns, where braking points are crucial to get the best performance without leaving the limits of the track.
Dylan Pereira had high expectations for this event, after obtaining the best free practice time. In the timed practice, the Luxembourger also got off to a good start; he was the first to go out on the track and had the fastest lap, improving the time achieved in free practice. In the middle of the session, all the drivers returned to the pits to adjust the settings of the Porsches 911 GT3 Cup and change the tyres. Back on the track, for the last few minutes of qualification, Pereira's opponents put up a tough fight and overtook him, leaving the Luxembourger in 4th place for the grid.
During the race itself, Dylan Pereira got off to an even better start and immediately jumped to 2nd position, among 23 drivers. During the seventeen laps of the competition, he stayed close to the leader and finished this first race only seven tenths of a second from the winner.
The Luxembourger returns to the track next week, also taking place in the Red Bull Ring, for the second race of the 2020 Porsche Mobil 1 Supercup, which opens the 2020 Styrian Grand Prix in Formula 1. He currently ranks 2nd overall in the tournament.