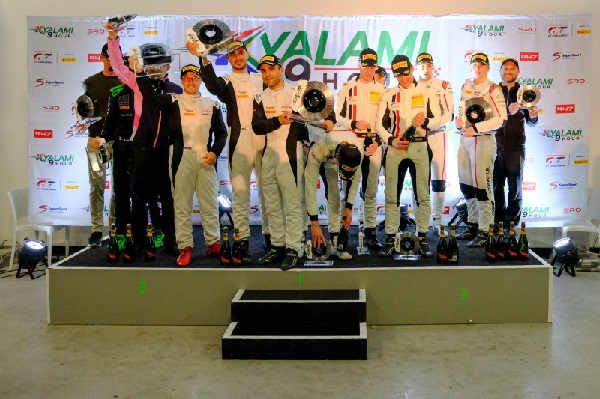 Intercontinental GT Challenge; Credit: SRO - Dirk Bogaerts Photography
Luxembourg race car driver Dylan Pereira has finished the season first in his class within nine hours at the Kyalami circuit of the Intercontinental GT Challenge in South Africa.
Over the weekend, Dylan Pereira climbed to the top of the podium in his class in the fifth and final race of the Intercontinental GT Challenge in Kyalami, South Africa.
This GT3 world championship is one of the best endurance competitions, in which some of the best drivers participate. It consists of five races and each race takes place on a different continent. The Kyalami circuit is very demanding, with long straight lines, fast and narrow sections, technical turns and the hilly landscape of South Africa in the background.
On this occasion, Dylan Pereira was the only Luxembourger among the 84 drivers of nineteen nationalities and the 28 teams to have entered the race. He participated in the "Silver" class, for young and semi-professional drivers, integrated into the Lechner Racing team and sharing the wheel of a Porsche 911 GT3 R with South Africa's Saul Hack and Germany's Lars Kern.
The qualification took place in three phases. Each pilot had fifteen minutes to complete the fastest lap possible. Afterwards, an average was calculated for each team based on the best times of the three drivers. The Lechner Racing team came out of 18th place on the starting grid.
For the nine-hour race, Dylan Pereira had certain stipulations: he needed to drive between 60 and 180 consecutive minutes without exceeding 225 minutes in total. The Luxembourger drove in the afternoon and evening, in the rain on a slippery track. At the end of the nine hours, his team was first in its class to cross the finish line, in 13th place overall.
Dylan Pereira finished 2019 on a high, with a 15th podium finish of the season, after being among the twelve pre-selected participants in the Porsche sponsored programme to be an official Porsche Junior driver.