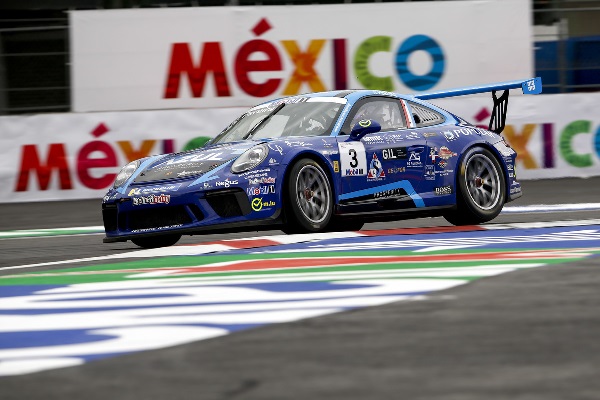 Credit: Porsche Mobil 1 Supercup, Mexico 2019
Luxembourg race car driver Dylan Pereira climbed three places in the tenth and last race of the Porsche Mobil 1 Supercup 2019 over the weekend.
This past weekend saw Dylan Pereira compete in the two final races of the Porsche Mobil 1 Supercup 2019 in Mexico. In the penultimate race on Saturday at the Autodrome Hermanos Rodriguez, a circuit with very fast turns and a finish line spanning over one kilometre, the Luxembourger set the 4th fastest time in the free practice- four tenths of a second off the best time. In the timed practice, the Momo Megatron Lechner Racing rider got 4th place on the starting grid for the first race and 7th for the second. However, he was forced to leave the circuit before he could finish the race, due to a collision with Mikkel O. Pedersen.
On Sunday, Dylan Pereira returned to the Autodrome Hermanos Rodriguez track for the 10th and last race of the Porsche Mobil 1 Supercup 2019. The Luxembourger won three places and finished at the foot of the podium. His Porsche 911 GT3 Cup Type 2 was seriously damaged due to the accident during Saturday's race, but the technical team managed to fix the car in time for the second race. Coming out of 7th place on the starting grid, he got off to a good start and quickly gained two places before suffering another bump that brought him down to 7th place. During the fourth lap, he climbed to 5th place and, in the seventh lap, to 4th place, just missing a podium spot.
Dylan Pereira thus finished the Porsche Mobil 1 Supercup 2019 in 9th place overall.