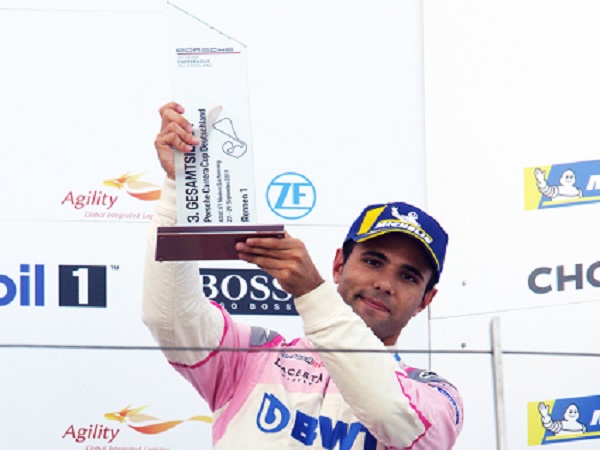 Dylan Pereira at the season finale of the championship; Credit: V. Lange
Luxembourg race car driver Dylan Pereira achieved another bronze victory in the last weekend of the Porsche Carrera Cup Germany 2019.
The 15th and 16th races, the last of the German championship, took place at the Sachsenring circuit, a narrow track with blind corners and very fast sections. Nevertheless, the Luxembourger finished in 3rd and 6th place over the weekend, thus finishing the championship in 4th place overall.
In the timed practice, which determines the places in the starting grids, on Saturday morning, Dylan Pereira waited for the wet track to dry and entered the race when the first drivers started to return to their boxes. He proved to be the fastest driver in the second sector and finished second in the standings. After a few laps, Pereira returned to his box to change the settings and tyres of his Porsche 911 GT3 Cup. Meanwhile, the drier asphalt meant that lap times had improved considerably and, when the Luxembourger returned to the track for the final laps, he was 7th. A red flag later forced all the drivers to regroup. Back on the track, Pereira still managed to take the 4th place for the starting grid of the first race and the 8th for the second among the 30 cars.
During the first race, Dylan Pereira got off to a good, very fast start. Before the first turn, he had already overtaken his teammate Julien Andlauer, jumping to 3rd place and immediately starting to put pressure on Larry ten Voorde, who was second. In the second round, he managed to overtake the Dutchman, but with the entry of the safety car, he was forced to give up the position. In a hotly contested race, with Dylan Pereira having to defend himself against Andlauer and constantly pushing Voorde to make a mistake, the Luxembourger ultimately opted to finish third instead of risking a bump with his opponent.
In the second race, Dylan Pereira came out of the fourth position of the starting grid and was in 8th place at the first corner. Julien Andlauer's exit from the track allowed his teammate to climb to 7th place. In front of him, Henric Skoog defended attacks, but in the tenth round the Luxembourger was faster and climbed to 6th place.
The races marked a positive season finale for Dylan Pereira in the Porsche Carrera Cup Germany 2019, with nine podiums and 4th place overall. He now has a month to prepare for the last two races of the Porsche Mobil 1 Supercup that will be held in Mexico City from 25-27 October; these races will open the Mexico Grand Prix in Formula 1.