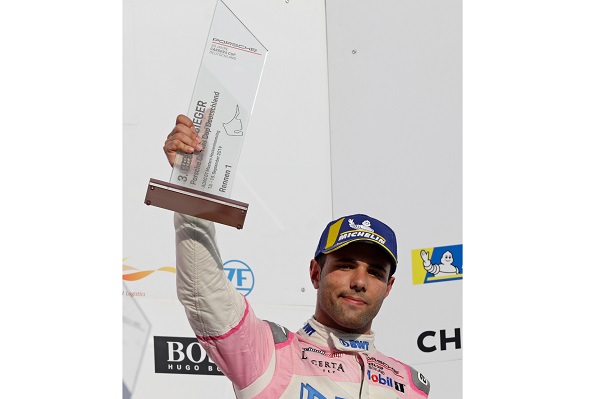 Dylan Pereira wins bronze in Hockenheim; Credit: Porsche Carrera Cup Germany - Hockenheim
Luxembourg race car driver Dylan Pereira has finished in 3rd and 5th place in the most recent races of the Porsche Carrera Cup Germany over the weekend, thus consolidating his overall position of 4th place in the championship.
On Saturday and Sunday, Dylan Pereira returned to Hockenheim for the 13th and 14th races of the Porsche Carrera Cup Germany. The Luxembourger won his first race of the Porsche Mobil 1 Supercup at the Hockenheim circuit last July. Located in the forest, the circuit proves difficult for high-speed driving.
This time, the competition struggled with excess rubber on the asphalt, which impaired the grip and reduced the traction of Pereira's Porsches 911 GT3 Cup. Nevertheless, the Luxembourger came out as the fastest driver in the third sector of the timed practice, among 30 drivers. He ended up 3rd on the starting grid for the first race and 5th for the second.
In the first race, Dylan Pereira got off to a good start, immediately putting pressure on his teammate Julien Andlauer, who started in 2nd place. An accident led to the entry of the safety car, after which the Luxembourger maintained pressure and managed to climb to 2nd place during the seventh turn. A few seconds later, another accident saw the return of the safety car and, after the restart of the race, Julien Andlauer took 2nd place with Dylan Pereira finishing 3rd.
In the second race, the start was characterised by many bumps and exits. In this context, Dylan Pereira lost two places, before the safety car entered the track again during the first lap. At the resumption of the race, the Luxembourger recovered a position, immediately putting pressure on his opponent in 5th place. Despite a few bumps, the Lechner Racing team driver managed to climb another position, before the safety car returned to the track. Back on the track, the checkered flag was only three minutes away, leaving the Luxembourger no time to climb higher in the standings; he crossed the finish line in 5th place.
Dylan Pereira's performances over the weekend secured the Luxembourg race car driver one bronze victory and a 5th place finish, leaving him 27 points higher and consolidating his 4th place in the championship overall.
With the championships coming to an end, Dylan Pereira will be participating next in the last two races of the Porsche Carrera Cup Germany in Sachsenring in two weeks' time.