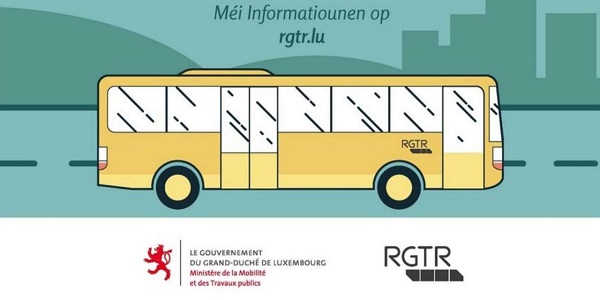 Credit: Luxembourg Government
Luxembourg's Public Transport Administration announced a new numbering system for the lines of the entire RGTR (rural) bus network as part of restructuring to improve the mobility of users in the long term, with the new line numbers and timetables in effect from Sunday 17 July 2022.
This new numbering is made up of different digits which have a determined function depending on whether it is the first, second or last digit.
The first digit will indicate the main axis in which the bus lines run:
1XX: North
2XX: East (Echternach)
3XX: East (Wasserbillig)
4XX: East (Remich)
5XX: South (Thionville)
6XX: South (Esch-sur-Alzette)
7XX: South (Pétange)
8XX: West (Steinfort)
9XX: West (Redange)
The second digit will indicate the different types of services:
X0X: The express lines serve the main axes and are intended to connect the major centres to the City of Luxembourg or the Nordstad. These lines, in general, have only one stop per locality.
X1X: The primary regional lines represent the main lines of an axis, unlike the express, they serve all the stops and provide connections in the region.
X2X: The secondary regional lines have the same vocation, but often do not pass through the final destination of the axis.
X5X: The transversal lines are strong lines that connect the major centres of the different regions without passing through the City of Luxembourg.
X3X, X4X, X6X, X7X, X8X and X9X: Local lines connecting rural areas to one or more major hubs.
Users can consult the online at www.mobiliteit.lu for more information and a table comparing the old and new numbers of public lines, as well as all future line timetables.
For any additional questions, the mobility advisers of the Mobiliteit.lu call centre are available to travelers via tel.: 24 65-24 65 from Monday to Friday between 07:00 and 19:00 as well as on Saturdays, Sundays and public holidays between 09:00 and 16:30.