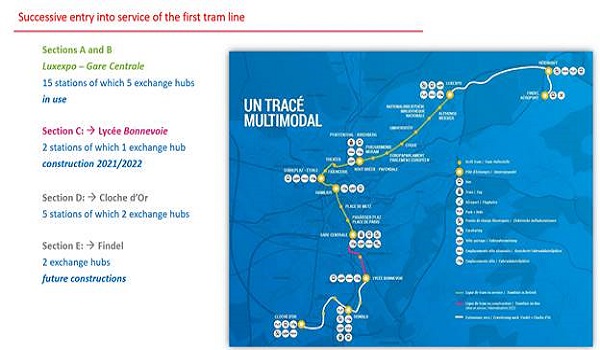 Credit: Luxtram
Luxembourg's Ministry of Mobility and Public Works and LuxTram have confirmed that the next tram extension will connect Luxembourg-Gare with Howald.
Following the opening of the extension linking Luxembourg-Gare with Kirchberg at the end of last year, LuxTram will next extend the line to Howald in 2023. A later phase will see the opening of the tram extension to Luxembourg Airport (Findel) in 2024.
Previously, the plan had been to link Kirchberg with Luxembourg Airport, before the extension to Howald.
Speaking to
Chronicle.lu
, the Ministry of Mobility and Public Works confirmed that there were several reasons for prioritising the Howald extension over the airport extension. Firstly, the authorities deemed it necessary to quickly provide the
"huge new commercial and residential area"
of Cloche d'Or with
"excellent public transport through a multimodal hub".
Furthermore, the schedule for the Findel area has been adapted to related construction, such as P+R Höhenhof and the Senningerberg motorway interchange. The ministry added that there were "longer rights-of-way" and "environmental procedures" in this area.
LuxTram also confirmed the revised schedule. Following the opening of the extension connecting Luxexpo with Luxembourg-Gare, the contract for a third section has been concluded, with works for this section connecting Luxembourg-Gare to the future multimodal exchange hub "Lycée Bonnevoie" beginning in spring 2021.
The works for the section connecting the Bonnevoie and Cloche d'Or districts will start in the first semester of 2022, on the section between "Lycée Vauban" and "Cloche d'Or" tram stops.
For both the Lycée Bonnevoie and Cloche d'Or sections, the planning of the tram works will be coordinated closely with the National Roads Administration according to their phasing.
The construction of the section connecting Luxexpo to Luxembourg Airport will also be coordinated with the Roads Administration and works on the bridge over the A1 motorway near Tramsschapp in Kirchberg will start at the end of this year.