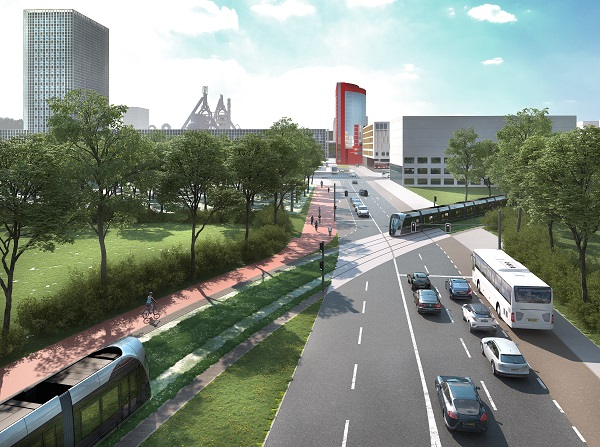 Credit: Bureau Schroeder & Associés
On Wednesday 21 October 2020, Luxembourg's Minister for Mobility and Public Works, François Bausch, presented the rapid tram project and its multimodal corridor between Luxembourg City and the South region; the presentation took place in the presence of the municipal councillors of Esch-sur-Alzette, Leudelange, Luxembourg, Mondercange, Schifflange and Sanem.
Southern Luxembourg as well as the south-western region of Luxembourg City are booming, with the number of commuters expected to increase further in both directions.
Mobility Minister François Bausch pointed out: "The development of our country requires an attractive and efficient mobility offer between our two main economic poles".
The objective of the rapid tram project is to connect these two poles with a rapid tram every 7 minutes during peak hours and a journey time of 14 minutes between the Cloche d'Or and the Alzette district in Esch-sur-Alzette. The project includes thirteen new tram stations, a total route of 17.5 km (including 10 km at a potential speed of 100 km / h), five new exchange hubs and one new animal crossing. Around 20 related road projects are also foreseen, including the optimisation of motorways and the adaptation of motorway interchanges.
The new multimodal corridor and the rapid tram are expected to respond not only to the chronic congestion of the A4 motorway, but also to allow the municipalities in southern Luxembourg to reorganise mobility within their municipal territories.
Minister François Bausch expressed confidence that the draft financing legislation of the projects could be introduced by the end of 2022.
Luxembourg's Mobility Minister thanked the municipalities concerned for their collaboration on the project. Local elected officials and Minister François Bausch agreed that the rapid tram will be a link between the strengths of the southern region and those of the Luxembourg agglomeration, namely culture, education, university, research and the airport.