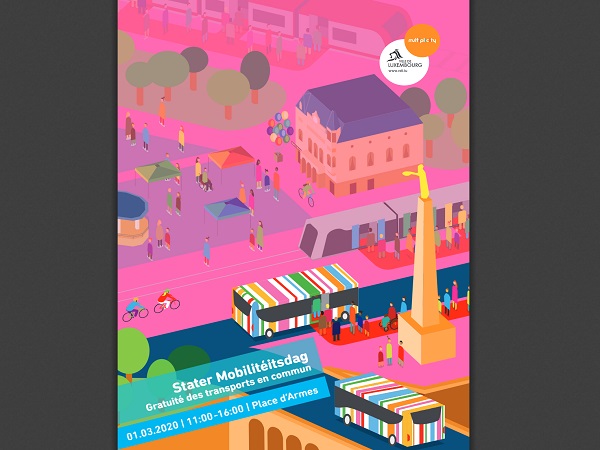 Credit: VdL
To celebrate the introduction of free public transport across the Grand Duchy, the City of Luxembourg is organising "Stater Mobilitéitsdag", a mobility day full of activities in the capital, on Sunday 1 March 2020.
For this occasion, Luxembourg City will host an information day and various activities from 11:00 to 16:00. This moment of celebration will also be the opportunity to inaugurate (at 14:00) the new local "Infobus" in Place d'Armes, an information desk for public transport in the city open to the public from Monday 2 March 2020.
Planned activities include a rally allowing participants to discover the offer of the Luxembourg City Bus Service, such as electric buses, the City Shopping Bus, the City Shuttle, the AVL control station and the "Tramsmusée". By visiting the different thematic stations, rally participants will also have the opportunity to win prizes. Moreover, the thematic stations of the Hollerich site guided tour will allow visitors to take a behind-the-scenes look at the Bus Service, to discover the control station and the bus stations, as well as getting an overview of the history of public transport in the City of Luxembourg with a visit to the Tramsmusée.
The Luxembourg City Tourist Office will also be offering multimodal tours allowing visitors to discover the range of public transport means with a circuit integrating the bus, the City Shuttle, train, funicular and tram. The multimodal tours will leave from Infobus in Place d'Armes at 11:15, 13:15 and 15:15.
Concerts, entertainment for the whole family and children's workshops will take place the same day.
Visitors will also be able to choose from a diverse culinary offer thanks to the food trucks installed in Place d'Armes.
In order to guarantee easy access by public transport to all visitors, line 17 and the City Shopping Bus will run between P+R Bouillon, Glacis and the city centre every 7 to 10 minutes (from 10:00 to 18:30).
For more information about this free event, see bus.vdl.lu and https://www.vdl.lu/fr/se-deplacer/en-bus/stater-mobiliteitsdag.