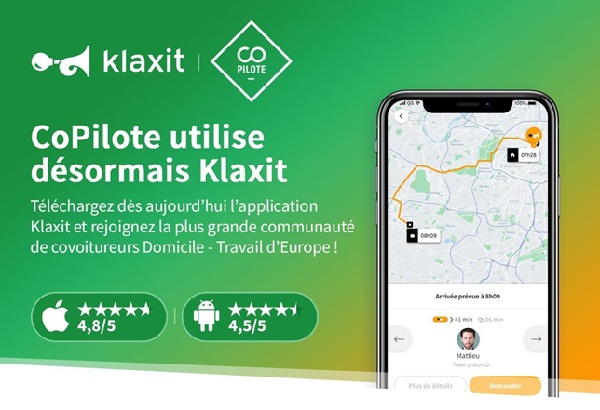 Credit: Klaxit
Luxembourg's Ministry of Mobility and Public Works today announced that the CoPilote carpooling portal will now integrate the Klaxit mobile application.
On 31 January 2020, CoPilote users will be invited to download the Klaxit app and join the largest car-to-work carpool community in Europe. For users living or working in Luxembourg, the Klaxit application has been specially personalised with CoPilote colours to ensure a smooth transition. This integration follows the acquisition of Ecolutis, holder of the carpooling market in Luxembourg, by Klaxit in July 2019.
The Klaxit mobile application connects drivers and passengers by allowing drivers to minimise their detours and make their schedules more flexible. Once en route, the integrated Klaxit Live GPS guides drivers throughout their journey and allows passengers to see when their driver is arriving in real time.
Companies can request to be referenced on Klaxit so that their colleagues can recognise each other and carpool with confidence. In addition, companies can subscribe to a premium business offer and turnkey support offered by Klaxit. This offer allows users to go from an average of 2% to 20% membership rate for the solution thus allowing 8 out of 10 registered members to find carpoolers that fit their route and schedule.
This technological shift from CoPilote to the Klaxit application is a first step in the transformation of the service. Drawing on Klaxit's experience in France, work with companies and financial incentives to initiate behavior change more massively is under study.
François Bausch, Luxembourg's Minister of Mobility and Public Works, commented: "Car sharing is an essential pillar of our Modu 2.0 mobility strategy. 250,000 empty car seats enter the capital city every day. This situation creates very large and one-way traffic flows. By reserving a future third lane on our motorways for carpooling and by strengthening our collaboration with Klaxit, we think we will convince people who have a similar route [to carpool]".
Julien Honnart, President and Founder of Klaxit, added: "We are very happy to bring this first step to fruition with the Ministry of Mobility and Public Works. The expectations for carpooling are very high in Luxembourg, both on the side of public decision-makers as well as businesses and citizens. By effectively associating employers and with the right incentives, we can make carpooling a lasting solution to the problem of cross-border journeys".