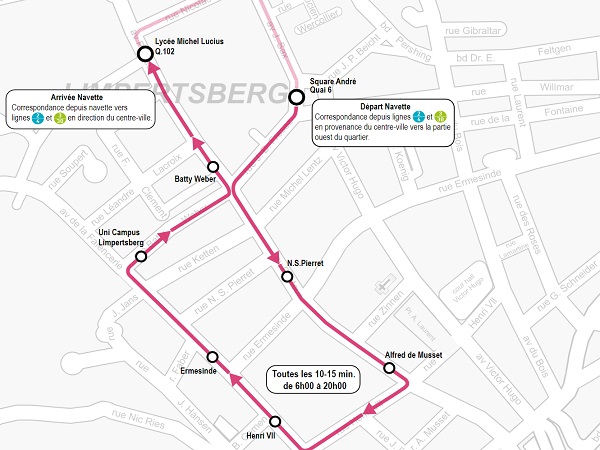 Shuttle route; Credit: Ville de Luxembourg
The Ville de Luxembourg (VdL) has announced the introduction of an additional shuttle bus service to and from the Limpertsberg district ahead of the Schueberfouer.
In the context of the Schueberfouer, an additional shuttle will serve Limpertsberg from 16 August until 14 September 2019 (inclusive). During this period, there will also be changes to city bus lines 3/30 and 19, as well as the CN2, which circulate in the district.
These changes are as follows:
There will be no connection between the city centre and Avenue de la Faiencerie. Instead, lines 3 and 30 will run between the city centre and Square André, in both directions, via Avenue de la Porte-Neuve and Avenue Victor Hugo (taking the same route as lines 2 and 4);
In order to reach the western part of Limpertsberg, a shuttle bus will run every day between 06:00 and 20:00 at a rate of 10 to 15 minutes and will connect with lines 2, 4 and 3/30 to and from the city centre;
Line 19 will run towards the city centre via Avenue Victor Hugo instead of Avenue Pasteur to avoid delays near Allée Scheffer. The N.S. Pierret, Alfred de Musset, Allée Scheffer and Faiencerie stops will be discontinued and replaced by Square André Quai 3, Alen Tramsschapp, Lycée de Garçons and Theater Quai 2. Commuters travelling to/from Avenue Pasteur will be able to use the shuttle bus mentioned above;
The CN2 line of the night bus network will run from the Schuman roundabout via Avenue du Bois, Rue Frantz Seimetz, Avenue Victor Hugo and Boulevard de la Foire before resuming its usual route;
As in previous years, the City Shopping Bus will not run from 8 August to 14 September 2019 (inclusive). Similarly, the CN1 line will no longer serve either the Fondation Pescatore or Theater stops during this period.
For further information, visit the VdL website: newbus.vdl.lu.