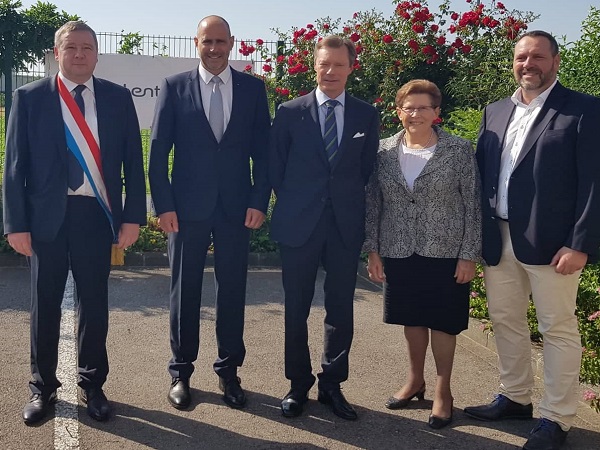 Credit: Jazmin Campbell
On Thursday morning, His Royal Highness the Grand Duke of Luxembourg paid a visit to the headquarters of Sales-Lentz in Bertrange.
Welcomed by Agnès Sales-Lentz and her sons Marc and Jos Sales (both associates of the Sales-Lentz Group), along with the heads of the various societies making up the Group, Grand Duke Henri embarked on a sort of journey through the Group's various companies, via information stands and demonstrations.
Presented on this occasion was Sales-Lentz itself, the coach company at the origins of the Group and which boasts the largest private fleet (621 vehicles) in Luxembourg and the Greater Region. The company's main activities consist of ensuring public, school and associative transport and offering coach tours. More specifically, Sales-Lentz' RGTR services represent almost 30% of the market share, it provides 32 AVL buses through the City of Luxembourg, as well as several special services, and the company's school buses serve more than 30 communes.
Similarly, the Group, which employs 1,531 people to date, presented Flibco.com, an international brand offering strategic airport connections in Europe, We love to travel, which boasts 20 travel agencies, Travel Pro, a travel and business trip partner for many businesses, and Voyages Léonard, a leading coach company and tour operator in Wallonia. Finally, the Grand Duke received information on the newest member of the Group, the prestigious limousine and minibus service Executive Lane, as well as Moyocci, which operates in the sector of exceptional leisure and tourist experiences.
The visit focused on Sales-Lentz Group's latest innovations as well as its social and societal responsibilities. Indeed, the Group has structured its corporate social responsibility around the three pillars of sustainable development: social and societal engagement, the environment and the economy.
In this context, the Group held a demonstration for the Grand Duke of its electric, hybrid and self-driving fleet, which will continue to expand in the coming months.