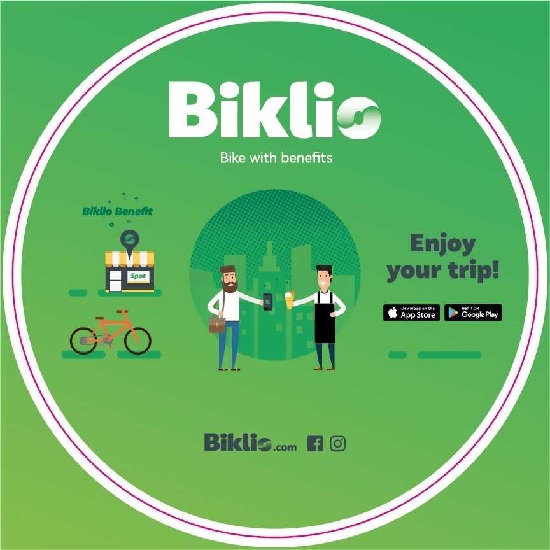 The new sustainable mobility campaign "Biklio" will be launched next month to encourage cycling in Luxembourg.
In October 2017, LuxMobility, supported by the Letzebuerger Velos Initiative, will launch a campaign dedicated to cycling in Luxembourg City. During one month, partnering spots including MUDAM, bike shop S-Cape, a pastry chain and bakery as well as a tennis club will encourage people to participate in a cycling campaign through the use of the Biklio application. Further spots will join the campaign soon.
The transport sector is the main source for greenhouse gas emissions in the Grand Duchy. According to a recent data collection in the Cloche d'Or (Positive Drive 2017), only 4% of people working in Luxembourg use a bike for their daily mobility. The Biklio app is therefore a reaction to the importance of increasing the number of people who use a bike, be it for inner city mobility, for cross-border commuters or for the commute of city residents.
Co-financed by the European Commission and developed in partnership with LuxMobility, the mobile application "Biklio" can be downloaded anonymously by people who work or live in Luxembourg. The collected data provides insights on the mobility behaviour of cyclists in the city.
The overall objective of this initiative is to encourage cycling, especially for short distance trips to or within the city. The application will also allow users to collect information about travelled distances, savings obtained by using bike instead of other transport, the CO2 emissions reduced, and so on. An additional objective is to connect cyclists to local shop or services in order to improve quality of life in the city.
By using the application during the month of October, cyclists will also be able profit from benefits at the initiative's partners, like a free coffee or beer or useful cycling equipment such as special bottles or outfits. Cyclists can additionally take part in special challenges to win extra prizes, such as a new bike.
More information is available on Facebook and on Biklio.com.