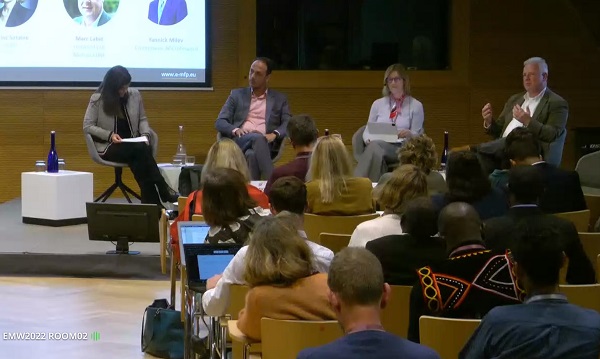 L-R: Olga Biosca; Yannick Milev; Sophie Sirtaine; Marc Labie; Credit: Screenshot
This year's European Microfinance Week (EMW 2022), hosted by the Luxembourg-based European Microfinance Platform (e-MFP), drew to a close on Friday afternoon.
EMW 2022 took place in person (with some hybrid sessions) at Neumünster Abbey (neimënster) in Luxembourg-Grund from Wednesday 16 to Friday 18 November 2022. The event comprised more than 30 sessions on different themes, from women's financial inclusion (the topic of this year's European Microfinance Award – won by Banco FIE) to green finance and digitalisation, among others.
The closing plenary on Friday 18 November 2022 brought together Sophie Sirtaine (CEO of Consultative Group to Assist the Poor – CGAP), Marc Labie (Professor at the University of Mons) and Yannick Milev (CEO of Chamroeun Microfinance Limited, an MFI in Cambodia), to address "Big Questions for Today – and Tomorrow" during EMW 2022's closing plenary. Moderator Olga Biosca (Professor at Glasgow Caledonian University) asked the speakers three questions, with the audience invited to participate in polls (asking with whom they most agreed) after each round of answers in this participatory session. This was followed by a Q&A session.
1. The sector's greatest success over the past three years: Sophie noted that the COVID-19 pandemic has accelerated real progress in financial inclusion (progress enabled by the way in which the sector has embraced technological advances) and this shows what can be achieved when efforts are focused; Marc argued that microfinance has become less fashionable and more mature as a result of the pandemic - a positive development, but one on which the sector should capitalise (learn from past mistakes, etc.); Yannick praised the microfinance institution (MFI) field staff, who took on the role of "frontline workers" to support clients during the pandemic, which caused a lot of uncertainty.
2. The biggest disappointment in the last three years: Sophie lamented that the gender gap improvement in financial inclusion has been illusory, in reality remaining unchanged (in some countries, this has even gone backwards), and argued that action in this area going forward must be intentional; Marc felt that this objective of the sector remained bery broad and noted that there had been a lot of progress in terms of regulation but not in the area of supervision, elaborating that corporate governance has not improved; Yannick expressed his disappointment at what he saw as the political appropriation of microfinance and emphasised that consumer protection starts with consumer empowerment.
3. Hopes and (realistic) goals for the sector: Sophie expressed her hope for real progress in outcomes, especially regarding resilience and empowerment, not just usage and account ownership; Marc highlighted the importance of adapting products to the needs of customers, combining standardisation and flexibility, as well as offering more positive incentives; Yannick discussed reconning about the goals of financial inclusion and its real value to clients, being more realistic and addressing challenges in a more pragmatic way that understands the risks involved.
Following the Q&A session, Laura Hemrika, e-MFP chairwoman, concluded the closing plenary by congratulating the winners of this year's European Microfinance Award (Banco FIE) and praising the variety of topics and ideas discussed at EMW 2022. She confirmed that the topic of next year's award will be food security and resilience. She also thanked the event's various partners and sponsors as well as the e-MFP team for having put together another successful edition of EMW.