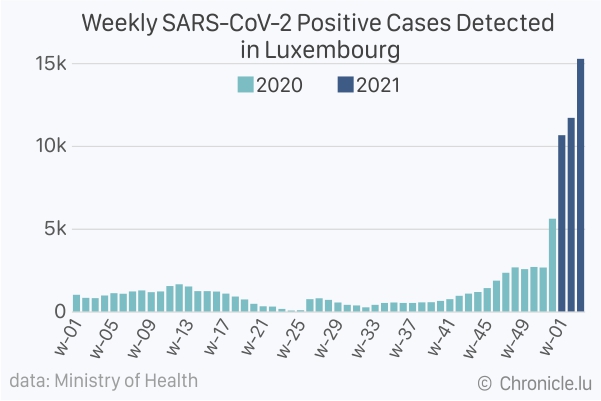 Luxembourg's Ministry of Health, together with the National Health Laboratory (Laboratoire National de Santé - LNS) and the Luxembourg Institute of Science and Technology (LIST), has issued a COVID-19 retrospective for the week of 17 to 23 January 2022.
During this period, the number of people testing positive for COVID-19 increased from 11,734 to 15,293 cases (up 30%).
Among the 15,293 new infections, the incidence rate is 3,769 per 100,000 unvaccinated people and 1,831 per 100,000 people with a full vaccination schedule.
The number of PCR tests carried out increased from 37,818 the week before to 42,151 last week.
312 people reported a positive rapid antigenic test for the reference week (up from 152 for the week before), bringing the total number of positive results from such tests performed by a healthcare professional to a total of 1,519. Note that positive rapid antigen tests are not taken into account in calculating the positivity rate.
As of 23 January 2022, the number of active infections stood at 27,370 (up from 22,433 as of 16 January 2022) and the number of people having recovered from the virus increased from 104,403 to 114,752. The average age of people diagnosed with COVID-19 is 28.1 years old.
Seven new COVID-19-related deaths were reported last week. The average age of those who died is 75 years old.
In hospitals, the number of confirmed COVID-19 patients in normal care increased from 48 to 58 over one week. The number of COVID-19 patients in intensive care decreased from ninteen to fourteen. The average age of hospitalised patients was 47.
Positivity rate & incidence rate
For the reference period, the effective reproduction rate (RT eff) was up 1.26 compared to 1.03 the previous week, while the positivity rate on all the tests carried out (prescriptions, contact tracing) increased from 31.03% to 36.28%.
The incidence rate increased to 2,409 cases per 100,000 inhabitants over 7 days, compared to 1,848 cases per 100,000 inhabitants for the previous week.
Compared to the previous week, the incidence rate increased in all age groups. The greatest increase is recorded among 75 and over year olds (up 91%) followed by 60-74 year olds (up 36%). The highest incidence rate is recorded among 0-14 year olds with 5,320 cases per 100,000 inhabitants. The lowest incidence rate is recorded in the age group 60-74 year olds with 696 cases per 100,000 inhabitants .
Quarantines & isolations
During the week, 29,701 people were in isolation (up 31%) and 14,999 in quarantine (up 71%).
Transmission
With the increase in the number of cases, it is difficult to determine all probable source of contamination of the week.
The family circle (42.8%) remains the most frequent source followed by work (7.8%), the aid and care sector (4.6%) and travel abroad (3.8%). The rate of contaminations for which the source is not clearly attributable decreased to 29.7%.
Schools
During the week of 17 to 23 January 2022, 68 classes across 43 primary schools and eight secondary schools were affected by a scenario four with more than five positive cases in the class. The Health Inspectorate quarantined students who had been neither vaccinated nor recovered.
Vaccinations update
For the week of 17 to 23 January 2022, a total of 40,658 doses were administered. 2,114 people received a first dose, 3,080 a second and 35,464 people received an additional dose compared to a full schedule, bringing the total number of vaccines administered as of 25 January to 1,212,952.
457,643 people have a complete vaccination schedule, which corresponds to a vaccination rate of 76.2% compared to the vaccineable population (therefore the 5 years or older population).
CovidCheck 2G+ scheme
The following persons have been exempted since 11 January 2022 from the test obligation under the CovidCheck 2G+ regime:
those with a complete vaccination schedule of less than 180 days;
those who received a booster vaccination;
those who have a certificate of recovery.