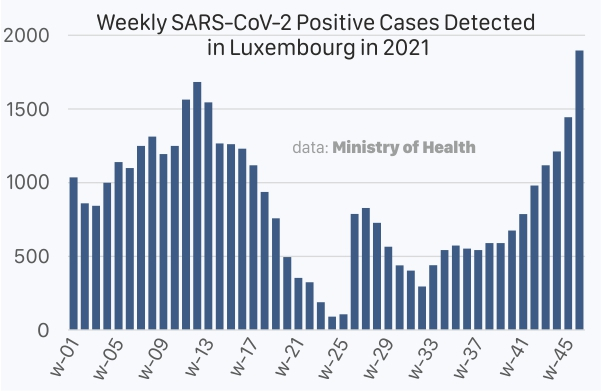 Luxembourg's Ministry of Health, together with the National Health Laboratory (Laboratoire National de Santé - LNS) and the Luxembourg Institute of Science and Technology (LIST), has issued a COVID-19 retrospective for the week of 15 to 21 November 2021.
During this period, the number of people testing positive for COVID-19 increased from 1,447 to 1,897 (up 31%). This marks the tenth consecutive week with increasing cases and the highest weekly in 2021 so far.
Among the 1,897 new infections, the incidence rate of new non-vaccinated test-positive people is 450.92 per 100,000 population and 217.71 per 100,000 population for those who had a full vaccination schedule.
Among the hospitalisations, 20 out of 39 patients hospitalised in normal care were not vaccinated (nineteen had a complete vaccination schedule), while four out of ten patients in intensive care were not vaccinated.
The number of PCR tests performed during the week increased from 18,930 to 23,542.
40 people reported a positive rapid antigen test for the reference week, compared to 23 for the week before, bringing the number of positive results following rapid antigen tests performed by a healthcare professional to a total of 481. Since the introduction of the self-tests, 804 positive results were declared (no cases for the week of 15 to 21 November). It should be noted that positive rapid antigen tests are not taken into account in the calculation of the positivity rate.
As of 21 November, the number of active infections increased to 3,331 from 2,607 (as of 14 November) and the number of people having recovered rose to 82,444 (from 81,273). The average age of people diagnosed with COVID-19 has declined slightly from 35.4 to 33.2 years.
For the week of 15 to 21 November, two new deaths related to COVID-19 are reported. The average age of those who died is 68 years old.
In hospitals, 39 new admissions of confirmed COVID-19 positive patients were in the normal care unit, up from 31 the week before. In intensive care, the number of occupied beds fell from fourteen to ten. The average age of hospital patients remained stable at 58 years.
Positivity rate & incidence rate
For the reference period, the effective reproduction rate (RT eff) was up 1.19 compared to 1.01 the previous week, while the positivity rate on all the tests carried out (prescriptions, contact tracing) increased from 7.64% to 8.06%.
The incidence rate increased to 299 cases per 100,000 inhabitants over 7 days, compared to 228 cases per 100,000 inhabitants for the previous week.
Compared to the previous week, the incidence rate increased in all age groups except those 75 and over. The greatest increase is recorded among 0-14 year olds (up 61%) followed by 45-59 year olds (up 24%). The highest incidence rate is recorded among 0-14 year olds with 547 cases per 100,000 inhabitants. The lowest incidence rate is recorded in the age group 75 years and over.
Quarantines & isolations
During the week of 15 to 21 November, 3,320 people were in isolation (up 22%) and 7,329 in quarantine (up 82%).
Transmission
For the 1,897 new cases, the family circle (31.7%) remains the most frequent source followed by education (16.9%) mainly basic education (12.0%), work (6, 3%) and trips abroad (5.0%). The rate of contaminations for which the source is not clearly attributable increased to 32.0%.
Boudersberg School, Dudelange (scenario 4)
On 10 November, a positive case appeared in a cycle 2 class. Four more cases appeared on 14 November and a sixth on 15 November. The class has been quarantined without an exit waiver.
Raoul Follereau School Center, Rambrouch (scenario 4)
Six students in a cycle 2 class tested positive in home self-tests on 21 November The class has been quarantined without an exit waiver.
Chemin Rouge School, Sanem (scenarios 1 and 3)
On 14 November 2021, a student was diagnosed positive in a class of cycle 2. Cases also appeared until 23 November in five other classes of cycles 2, 3 and 4. In all, fourteen students and a teacher were affected by COVID-19. Four classes were quarantined with exemption from leaving to attend classes. Two classes were quarantined without an exit waiver.
Vaccinations update
For the week of 15 to 21 November, a total of 18,088 doses were administered. 2,924 people received a first dose, 4,008 a second and 11,156 people received an additional dose compared to a full schedule, bringing the total number of vaccines administered as of 23 November to 880,176.
425,854 people have a complete vaccination schedule, which corresponds to a vaccination rate of 77% compared to the vaccineable population (therefore the 12 years or older population).
Wastewater monitoring
The level of contamination of the thirteen sampled wastewater treatment plants studied by LIST during the week of 15 to 21 November showed a still high prevalence of the coronavirus in wastewater at the national level. This week's results again show an increase in the flow of SARS-CoV-2, with a return to a level similar to that of last March-April. The general trend over several weeks, if not several months, is clearly upward. A general upward trend is also observed at the regional level for most of the wastewater treatment plants analysed, without regional disparities.