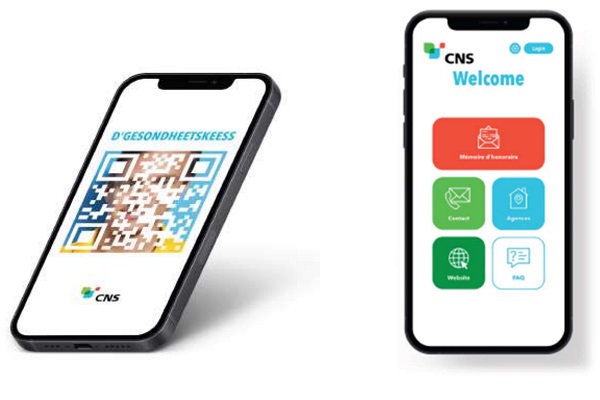 Credit: MSS
Luxembourg's Ministry of Health and the Ministry of Social Security have announce the launch of a new health insurance application: the "CNSapp".
At a press conference on Wednesday, Luxembourg's Minister of Health, Paulette Lenert, and the Minister of Social Security, Romain Schneider, and the Minister Delegate for Social Security, in the presence of the President of the National Health Fund (Caisse nationale de santé - CNS), Christian Oberlé, and the President of the doctors' association AMMD (Association des Médecins et Médecins-Dentistes), Dr. Alain Schmit, presented the progress being made in the digitalisation of health and maternity insurance and the direct payment of medical bills.
The first phase of digitalisation includes the transfer of documents via a digital platform. The CNS, the eSanté agency and the AMMD have worked together to find a simple yet secure solution in order to improve the system for handling fees.
The development of a digital platform now allows the direct exchange of information between health professionals, the insured and health funds, thus allowing the digital transfer of bills from doctors and insured parties to the CNS.
The platform makes it possible to speed up the reimbursement of medical bills - the first step towards immediate direct payment in 2023.
Doctors equipped with the new platform can print medical bills with a QR code and upload it digitally on the platform. When the CNS receives the document (in digital or paper form), it can digitally retrieve the same document using the QR code. Refunds can thus be executed more quickly.
Moreover, the CNSapp mobile application, which will be available to download in the coming days, will allow insured parties to electronically download their medical bills to send them to the CNS for reimbursement.
The CNS is set to launch a communication campaign shortly to inform policyholders about the functionalities and operation of the app.
The CNSapp complements the existing "GesondheetsApp" of the Digital Health Network (DHN).
The next steps are set for 2022, when the deployment of digitalisation among doctors is planned, and 2023, when the launch of immediate direct payment will take place.