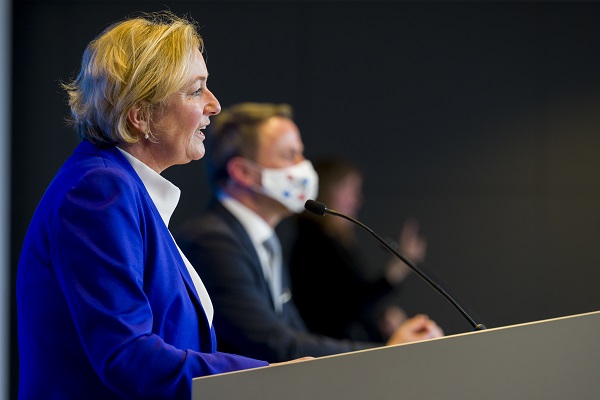 (L-R): Paulette Lenert, Minister of Health; Xavier Bettel, Prime Minister; Credit: © SIP / Jean-Christophe Verhaegen
Following Friday's announcement about COVID-19 vaccines being made available for Luxembourg residents, further details have been confirmed in a press release issued by Luxembourg's Ministry of State and the Ministry of Health.
Luxembourg's Minister of Health Paulette Lenert stated "A vaccine will complement the other tools that are in place, it will not replace them".
Prime Minister, Xavier Bettel, explained "One of the priorities will be to ensure equal access for all to a safe and effective vaccine. However, the total number of vaccine doses will be limited during the early stages of deployment and before production can be increased by manufacturers. It was therefore inevitable to determine which groups would benefit from priority access to vaccines."
It is understood that both residents and cross-border workers will be covered by the vaccine allocation plan.
When the strategy was being drawn up, Luxembourg committed to the advance purchase contracts negotiated by the European Commission with producers, for 1.3 million doses of vaccine with which it will be possible to vaccinate more than 800,000 people, since some of these vaccines require the administration of 2 doses. To date, vaccine production candidates include AstraZeneca, Sanofi GSK, Johnson & Johnson, BioNTech / Pfizer, CureVac and Moderna.
To ensure the fastest availability of COVID-19 vaccines in sufficient quantities in Luxembourg, the government is purchasing vaccines centrally through an EU common procurement mechanism, under advance purchase contracts. These agreements guarantee citizens quick access to safe and successfully tested vaccines as soon as they are approved for use in the EU.