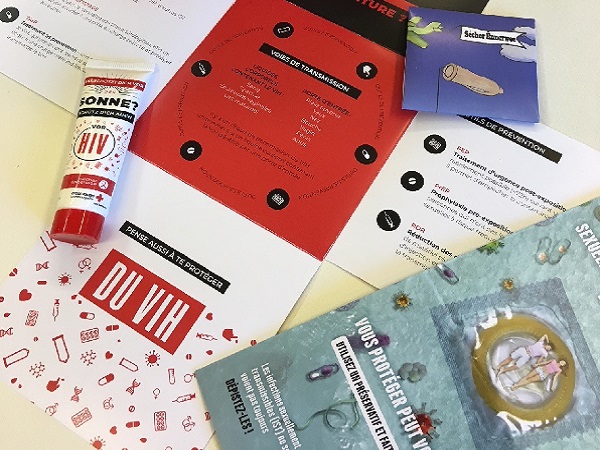 Credit: Luxembourg Red Cross
In its activity report, published on Thursday, Luxembourg's Surveillance Committee for AIDS, Hepatitis and Sexually Transmitted Diseases revealed that the number of new HIV infections in the Grand Duchy had remained stable over one year.
The report showed that the total number of new HIV infections in Luxembourg in 2019 (49) was identical to that of 2018. These new infections were attributed mainly to heterosexual (24 cases) and homo / bisexual transmission (22 cases). In general, new infections in women continued to decrease while they increased in men.
Whilst figures had stabilised, the report noted that there had been no significant decrease in new infections due to homo / bisexual transmission (22 in 2019 and 2018 compared to 15 in 2017), despite the implementation of pre-exposure prophylaxis (PrEp) since 2017.
On the other hand, the epidemic outbreak among drug users has been halted since 2018: only three new HIV infections were attributed to drug use in 2019, although these infections occurred prior to 2019. Luxembourg's Ministry of Health noted that a huge effort had been made on drug treatment sites to increase screening, prevention and risk reduction means as well as access to antiretroviral treatment.
That being said, the report shows that HIV is still present in Luxembourg. Dr Carole Devaux, president of the AIDS Committee, noted: "In addition, the containment due to the COVID crisis this year has had a definite impact on the screening strategies implemented in the country; made less accessible, we must now redouble our efforts to increase the screening coverage. In this context, Testing Week makes perfect sense".
European Testing Week will take place for the 8th consecutive year from 20 to 27 November 2020. It is estimated that 15% of infected people in Luxembourg are unaware that they are HIV positive. However, knowing one's HIV status as early as possible is critical for better treatment and to avoid infecting others.
"In the face of HIV, testing is more than ever a prevention tool," recalled the Minister of Health, Paulette Lenert. "It is only by knowing their HIV status that a person who has been infected with HIV is able to protect their health and the health of others".
At present, testing can be done in three ways in Luxembourg: by blood test in a hospital or laboratory (six weeks after a risk of HIV infection); by rapid diagnostic orientation test (TROD) at the HIV Berodung service of the Luxembourg Red Cross or in the mobile service "dimps" (from twelve weeks after a risk of infection). This method involves taking a drop of blood from the tip of the finger; and self-testing (from twelve weeks after a risk of infection). This method allows the individual to test themselves at home, in complete confidentiality. Since July 2019, HIV self-tests have been available in Luxembourg in pharmacies and since November, in Cactus supermarkets.
During the testing week, it will be possible to get a blood test without a prescription and free of charge in the following laboratories: Ketterthill, Bionext and, throughout the year, at the National Health Laboratory in Dudelange.
Rapid screening tests can be carried out, anonymous and free of charge, by appointment every Monday and Wednesday from 17:00 to 19:00 in the HIV Berodung premises (94 Blvd Général Patton, L- 2316 Luxembourg), as well as every Thursday between 12:30 and 14:30 at the LGBTIQ+ CIGALE centre (16 Rue Notre-Dame, L-2240 Luxembourg).
In order to limit physical travel, the HIV Berodung service has also set up an HIV self-test by post. To request a self-test, call tel.: 2755-4500 or send an email to hivberodung@croix-rouge.lu.
In addition, for the second consecutive year, the HIV Berodung and artisan Namur, with the support of the Health Ministry, have joined forces to create the "Love Baguette". From 20 November to 1 December 2020, shoppers can buy a baguette in the shape of a red ribbon, a symbol of solidarity with people living with HIV, for €2.20 in all Namur stores across the country. For each baguette purchased, €1 will go to the HIV Berodung service for its prevention activities.