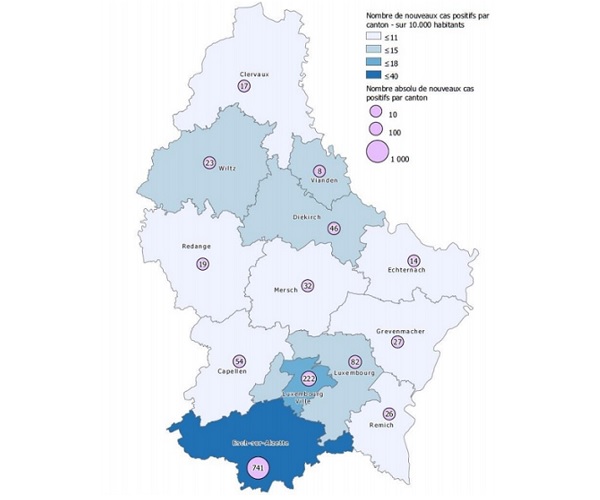 Credit: MS
Luxembourg's Ministry of Health has published an up-to-date map showing the distribution of new infections by canton across the Grand Duchy over the past three weeks.
The map clearly shows that Esch-sur-Alzette continues to have by far the most cases (741), followed in 2nd place by Luxembourg-ville (222 cases).
In addition, the Ministry has also published (covering the period 3-9 August 2020) various graphs showing the statistics on the evolution of the number of COVID-19 tests carried out, the number of people tested positive for COVID-19, contacts and tracing, as well as hospitalisations and deaths.
For this 7-day period, 297 of the 354 positive tests have come from Luxembourg residents (83.9%), with 6.8% living in France, 6.2% living in Belgium and 1.4% living on Germany, with the remaining 1.7% living in other countries.
The reproductive rate (RT) has reduced from 0.86 to 0.72 from the previous week, with the number of people hospitalised down from 52 to 42, with 7-8% of intensive care beds now occupied. The average age of people hospitalised is now 52 (down from 57 the previous week).
On the spread of the virus across age groups:
0-9 years 9.3%
10-19 years 11.3%
20-29 years 20.6%
30-39 years 16.4%
40-49 years 20.3%
50-59 years 13.0%
60-69 years 4.8%
70-79 years 1.4%
80+ years 2.8%
Total: 100.0%