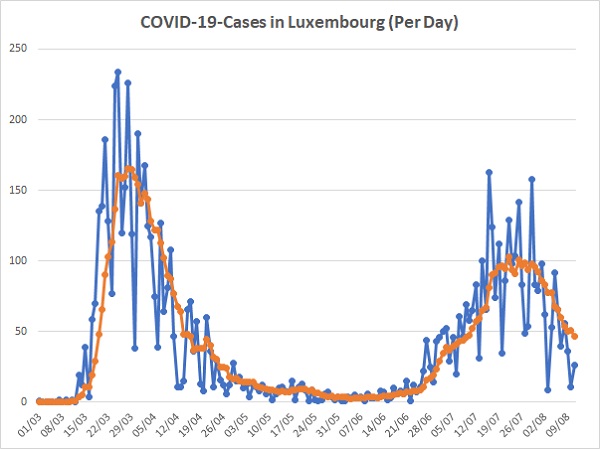 The number of people having tested positive for COVID-19 (coronavirus) in Luxembourg stands at 7,244 (up 26 from Monday - 25 residents and 1 non-residents), with 5,502 residents and 549 non-residents tested over the past 24 hours; there have been 122 fatalities (up one since Monday) resulting from the virus, as of early evening on Tuesday 11 August 2020.
The average daily increase (over a 7-day period) in cases is now 46.71.
The number of people currently hospitalised with COVID-19 is 45, with 4 patients in intensive care. The effective reproductive number in Luxembourg is currently 0.79.
The above graph shows the evolution of the spread of coronavirus in the Grand Duchy on a daily basis since 1 March 2020, with the orange line showing the daily numbers averaged over the past week; the graph below shows the total figures (cumulative) over the same period.