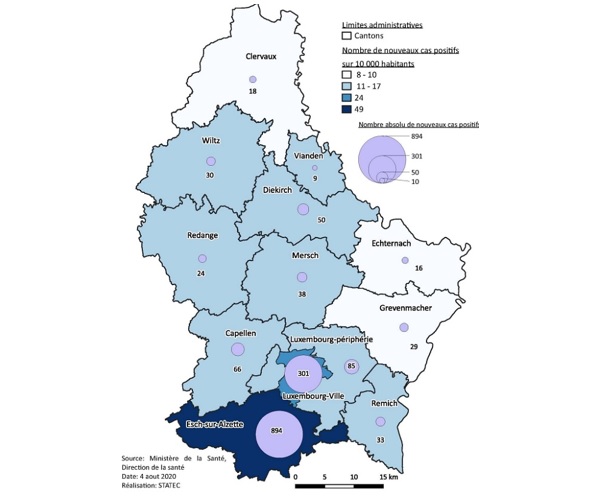 Luxembourg's Ministry of Health has announced that, for the week of 27 July to 2 August 2020, the number of people tested positive for Covid-19 and the number of identified contacts remained stable at a high level, with the average age of new cases being 36 years.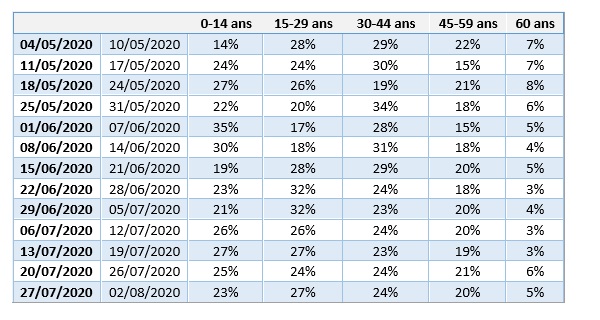 Of the 525 positive cases of the week in question, 155 cases resulted from intra-family contamination and 82 cases are traceable to clearly identified infection clusters (the place where the infection is found does not necessarily correspond to the place of transmission of the infection).
During this week, 3 groups of additional infections were identified in establishments in the health / care sector, while 4 groups were linked to companies, with a maximum of 8 cases observed for a company. During this period when 525 new infections were recorded, the contract tracing has resulted in identifying 3,179 contacts, against 695 new infections and 3,521 contacts for the previous week.
During this week, 6 new deaths related to COVID-19 are also recorded.
The effective reproduction rate (RT eff) decreased from 1.01 to 0.86 compared to the previous week. This trend is also reflected in the positivity rate (i.e. the ratio of positive tests to tests performed) which dropped from 0.84% ​​to 0.78%.
As of 2 August, the number of active infections stood at 1,241 (compared to 1,396 on 7/26). 894 of these are in the Esch-sur-Alzette region, with 301 in Luxembourg-ville.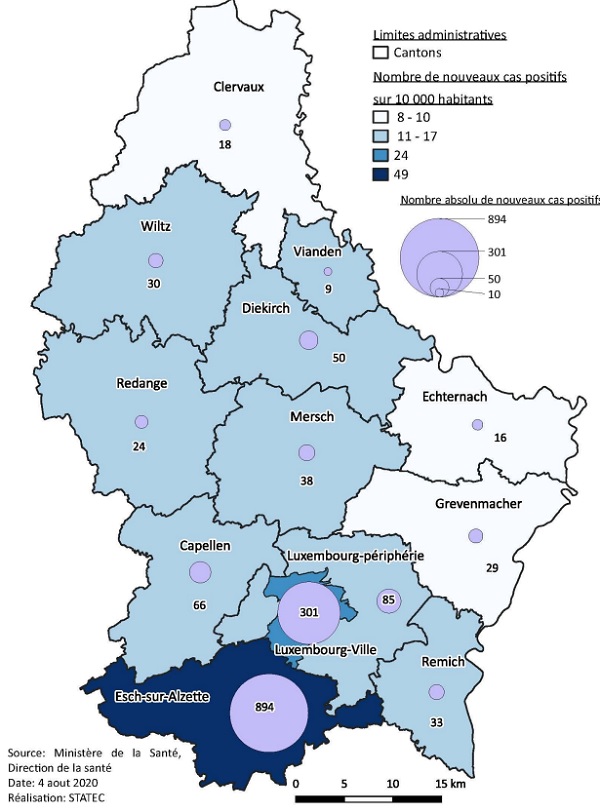 For this week, the average age of people diagnosed with COVID-19 positive is 36, and therefore remains stable compared to previous weeks. While the people concerned are therefore rather young on average, it should be noted that the number of positive COVID-19 cases is also increasing in people aged 50 and over.
The proportion of symptomatic people decreased from 66% to 58%.
Quarantine monitoring:
For this week, 1,900 people were in quarantine and 1,329 in isolation.
74% of people in quarantine are under 45.
The non-compliance with quarantines already noted the previous week by health inspectors remains a major problem, as does the non-compliance with isolation and is increasingly due to departures on vacation, despite a positive COVID-19 diagnosis.