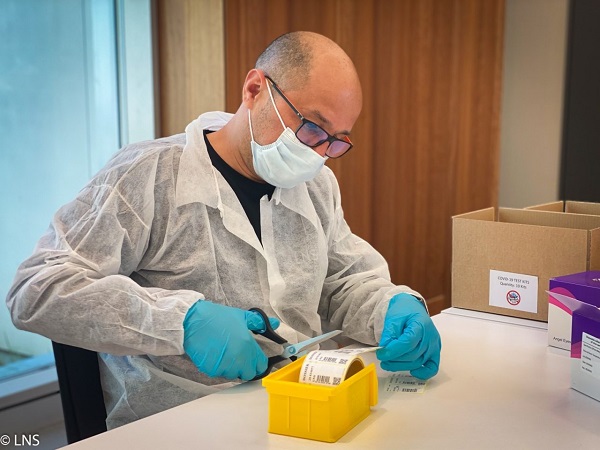 Credit: LNS
The Laboratoire national de santé (LNS) announced on Monday that it is launching a national programme to test the elderly for COVID-19 in care homes across Luxembourg.
On behalf of the Health Inspection Department of the Health Directorate, the LNS, in collaboration with the Luxembourg Institute of Health (LIH), is undertaking systematic screening in the Grand Duchy's care homes in order to establish the precise location of the spread of the virus in this particularly vulnerable environment. The 10,000 tests will be carried out both on residents and nursing staff in these establishments.
The LNS and Health Inspection Department, in collaboration with the LIH, have developed an effective process for this purpose, combining the skills of the partners in a complementary manner. Dr Françoise Berthet, Deputy Director of the Health Directorate, explained: "The staff of the Health Inspection Department will take samples by nasopharyngeal swabs in retirement and nursing homes".
Dr Berthet continued: "The objective of this action is to obtain information on the asymptomatic forms and prevalence of the disease, making it possible to support the strategy of prevention and control of COVID-19 in institutions for the elderly. It will also provide us with data that will help us to make decisions on the gradual and prudent lifting of containment measures at a later stage".
The programme will start this week and will cover all senior facilities on a multi-week schedule.
The tests carried out in the care homes will be taken directly to the LNS in Dudelange, to be assessed in the specialised virology laboratory. The results will then be promptly passed on to the patient and the management of the respective care home. LNS Director Prof. Dr Friedrich Mühlschlegel elaborated: "In the fight against COVID-19, the time factor plays a major role, especially for the elderly, who are at high risk of the severity of the disease. This is why our employees will not only work seven days a week, as is already the case, but virtually around the clock. In this way, together with the Health Inspection Department and the LIH, we are helping to help the elderly through screening for asymptomatic forms and early diagnosis".
The test being used was established and validated at the LNS.