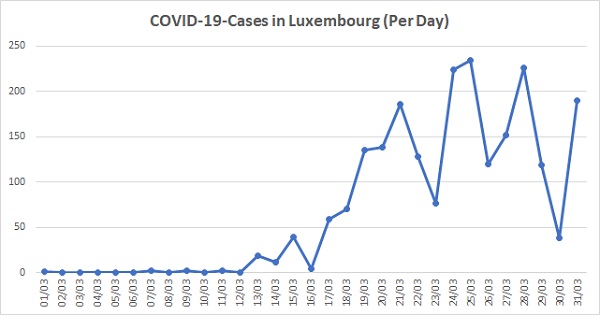 As of Tuesday evening, the number of people having tested positive for COVD-19 (coronavirus) in Luxembourg has surpassed 2,000.
The total number of confirmed coronavirus cases in the Grand Duchy has risen to 2,178, including 23 deaths. This represents an increase of 190 confirmed cases and one additional death since Monday evening. These figures include 1,833 residents and 295 non-residents.
The 23 fatalities resulting from the virus do not include the death of one patient who had been transferred from the Grand Est region in France to Luxembourg for treatment.
To date, a total of 17,511 tests have been carried out in the Grand Duchy.
The above graph shows the evolution of the spread of coronavirus in the Grand Duchy on a daily basis since 1 March 2020, with the graph below showing the total figures (cumulative) over the same period.
Daily updates are provided on the Ministry of Health's COVID-19 website, which now offers more detailed information, available at https://msan.gouvernement.lu/fr/dossiers/2020/corona-virus.html. The COVID-19 national hotline is 8002-8080; the hotline for calls made outside Luxembourg is +352-497-719200.