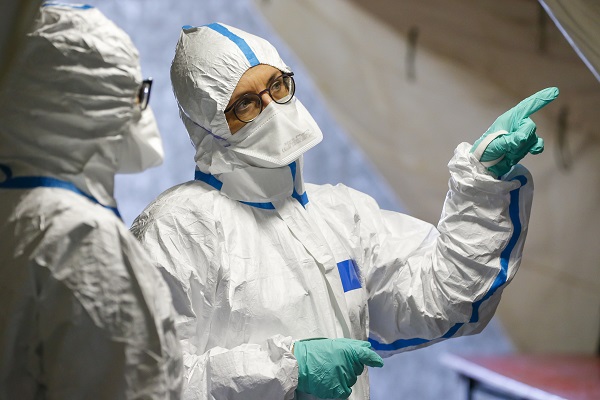 Rockhal centre; Credit: SIP / Julien Warnand
During this morning's press briefing with Luxembourg's Minister of Health and a panel of medical experts, it was revealed that a total of 354 patients had visited the three newly opened advanced medical care facilities ("centres de soins avancés") in Luxembourg-Kirchberg, Esch-sur-Alzette and Ettelbruck.
Faced with an increasing number of COVID-19 (coronavirus) cases in Luxembourg, the Ministry of Health announced last week that four existing buildings would be converted into additional medical facilities: LuxExpo in Luxembourg-Kirchberg, Rockhal in Esch-Belval, the Däichhal concert hall in Ettelbruck and a fourth in Grevenmacher (now confirmed to be at the cultural centre) in the east of the country.
The first such centre opened at LuxExpo on Monday afternoon, followed by the opening of a second centre at Rockhal on Tuesday afternoon and that of a third centre at Däichhal in Ettelbruck. The fourth centre is set to open at the cultural centre in Grevenmacher tomorrow, Friday 27 March 2020.
During today's briefing, Dr. Pierre Hertz, coordinator of the new medical centres, confirmed that, as of 11:00 on Thursday, a total of 354 patients had visited the three currently opened centres (including 75 this morning).
In a press release issued after the briefing, the Ministry of Health clarified that the centres were opened and operate depending on the health needs specific to each sector. In a first phase, these centres are open daily from 08:00 to 20:00 including weekends, although opening hours may be extended if needed. Currently, up to eight doctors can be consulted at the same time. The ministry added that treatment capacity at the Luxembourg City centre is 1,500 patients per day, with 25 people continuously present.
In addition, these new structures are designed to operate through two strictly separate consultation channels: the first is designed to receive patients with symptoms of coronavirus; the second allows patients suffering from other illnesses to visit the centres. To limit waiting times as much as possible, each department tries to take care of several patients in parallel.
Regarding staff, a doctor ensures the clinical examination of the patients during opening hours. He / she is assisted by nurses who ensure the taking of constants (such as temperature measurements) and the collection of clinical information. One team is also involved in collecting administrative information and another is in place to take care of the logistics. Most of the staff are volunteers who registered on the GovJobs website, according to Dr. Hertz. At present, there are around 75 people working across the three centres.
Concerning the patient management process, these are mobile treatment centres which have the medical equipment necessary for initial treatment. They are not designed for emergencies. Nevertheless, a medical evacuation plan is in place in the case that a patient's health condition deteriorates during treatment at these centres.
To meet the essential criterion of avoiding contact between patients who have symptoms of coronavirus and other patients, all patients are screened as soon as they arrive at the advanced care centre. At reception, they are thus directed either to the coronavirus protected stream or to the general medical stream and can wait in separate waiting rooms. Separate administrative services record the patients' data before a nurse receives patients for a first check. A doctor then performs a clinical examination.
Patients whose doctor suspects a coronavirus infection are tested on the spot. If the test is positive, they are redirected according to their state of health. Either they can go home for self-isolation or they are transferred to a hospital structure in a specially equipped ambulance if their state of health requires it.
The Health Ministry also recalled that consultation in these new centres is free of charge; patients need only bring their national insurance (CNS) card and proof of ID:
In the gallery attached to this article are images taken before the opening of the advanced care centres at LuxExpo, Rockhal and Däichhal.