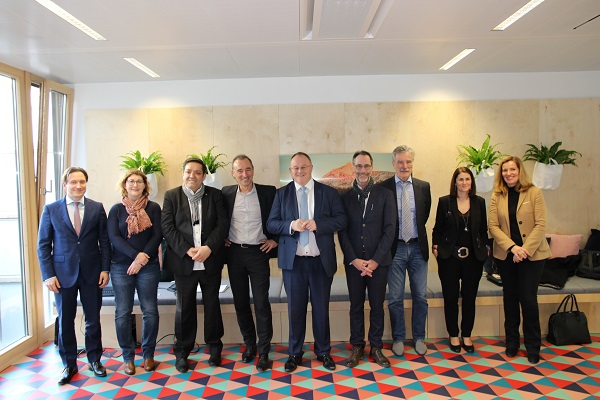 CNS Hesperange visit; Credit: MSS
Luxembourg's Ministry of Social Security and the National Health Fund (CNS) have unveiled some of the modern features of the new CNS premises in Hesperange.
This update comes following the visit of Romain Schneider, Minister of Social Security, to the new offices of the CNS Cash Benefits Department in Hesperange. Indeed, the Cash Benefits Department, which until November 2019 was located on Rue Glesener in Luxembourg City, has integrated new premises pending the planned collective move of the CNS to the Cité de la sécurité sociale in a few years.
Keeping with modernisation efforts, the new premises feature collaborative spaces for teamwork and a contact centre where calls concerning cash benefits are processed, thus allowing, in theory, a quicker response.
The year 2020 heralds other innovative changes in this regard. To better serve its policyholders and especially to respond to recurring problems of waiting and overflows, policyholders will have new possibilities to alleviate these concerns. For instance, they will have the option to consult waiting times at the agencies online and opening hours will be extended from 1 March 2020 at the Hollerich branch, with the agency opening its doors once a week (Wednesdays) from 08:00 to 18:00. Other agencies may follow in the future.
In addition, the CNS has been working over the past few years on improving its website and digitising certain procedures via MyGuichet.lu.
The CNS has a network of sixteen agencies in the country. The agencies in Differdange, Esch-sur-Alzette, Mondorf, Ettelbruck and Wiltz will relocate by the start of the summer. In these agencies, a new concept of accessibility, optimisation and efficiency is foreseen.