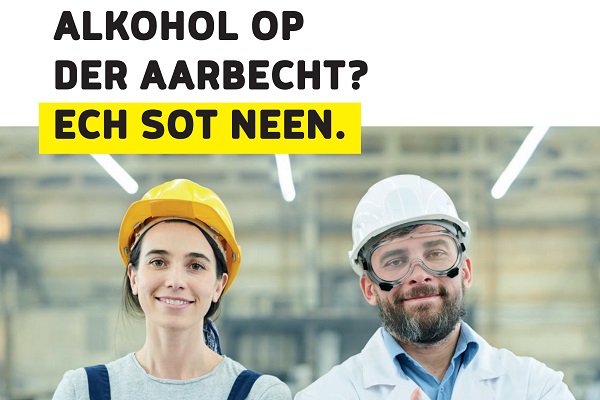 This Saturday 18 May 2019, Luxembourg will be launching the second edition of the "Alcohol? Less is better!" action week, which takes place every two years.
This prevention campaign against the over-consumption of alcohol, running from 18 to 26 May 2019, is unique in that it primarily builds on voluntary, citizen engagement and self-help.
The action week takes place in close cooperation with the German Centre for Addiction Issues (DHS), which has been initiating the "Action Week on Alcohol" in Germany every two years since 2009. This year, besides Germany and Luxembourg, Switzerland, Liechtenstein and Austria will also be participating.
According to the World Health Organisation (WHO, 2018), 6.6% of the population in Luxembourg has an alcohol-related disorder. Indeed, 2.9%, or around 18,000 people, suffer from addiction. This action week addresses those who consume alcohol and encourages them to think about their own consumption. Indeed, excessive consumption of alcohol is responsible for over 200 diseases and there is no risk-free measure for alcohol consumption. Instead, the Health Directorate relies on the WHO's recommendations for low-risk consumption and advises women not to consume more than one glass of alcohol per day and men not to consume more than two glasses per day and to abstain from alcohol at least twice a week.
The main theme of the Action Week 2019 is: "No alcohol in the workplace!" Alcohol is often present in the workplace, for instance at lunch or during special events. This consumption in the workplace can impact the health of workers (traffic accidents, machine operation, driving machinery, etc.) and reduce their work performance.
According to the DHS, the consumption of alcohol has an impact on the number and extent of occupational accidents; An estimated 25% of all occupational accidents are due to alcohol. Other consequences of alcohol consumption in the workplace include reduced productivity and concentration, a negative influence on social and professional relationships.
As this campaign is based on citizen engagement and self-help, volunteers are at the heart of its message. Anyone wishing to help spread this message can organise and register a workplace action on the website www.aktionswoche-akohol.lu. Free information material can also be ordered from this site.
The Health Directorate has organised this prevention campaign in close collaboration with the Ministry of Labour, Employment and Social and Solidarity Economy.