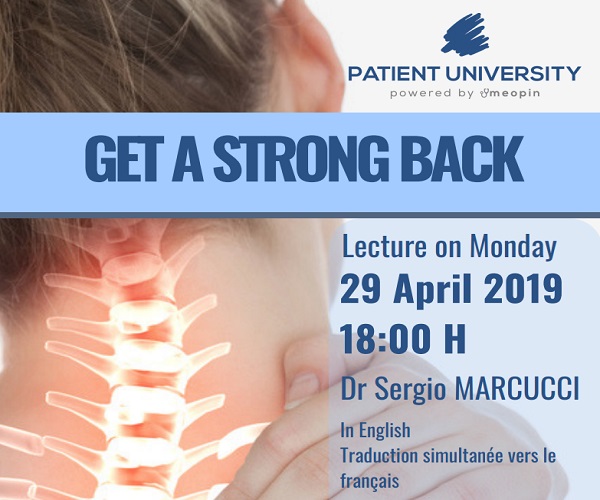 Health professionals network Meopin has launched "Patient University" in Luxembourg; the first event will take place on 29 April 2019 at the Da Vinci Forum in Luxembourg-ville, from 18:00.
Patient University will be a series of events offering the development and strengthening of patient skills, comprising the concept of "Health Education for Everyone". During these sessions, patients will have the opportunity to listen to the speaker, a specialist of the subject (30-45 minutes), talk to the speaker, ask questions and get answers (maximum 30 minutes) and broaden their skills on diseases, treatments and their rights and obligations to the health system. In addition, patients will be able to test medical applications and devices, speak to other professionals offering services or related products and visit information booths and interactive workshops.
An imperative for each speaker during Patient University is to adopt a clear language, understandable for the public and thus avoid technical terms.
The theme of the first event, taking place on 29 April, will be the treatment of back and pelvic pain. Dr. Sergio Marcucci, DO, MSc, Dr. of Health Sciences, will discuss this topic, answering questions regarding the origins of back problems and how to address them. As a doctor in Health Sciences at AT Still University College, Mesa, Arizona (USA), Dr. Marcucci has been practising osteopathy for sixteen years in Luxembourg, not to mention his research in the field of osteopathic clinic in order to optimise manual osteopathic treatment.
For coming events, Patient University is preparing topics such as overcoming a fear of doctors, the risks of anaesthesia, post-partum depression, skin tumours and personal data protection for patients.

In addition, for September 2019, Patient University plans to expand its offer to a mobile concept that can be deployed to companies and schools. The goal is still to communicate on medical topics so that the patient can develop their skills.