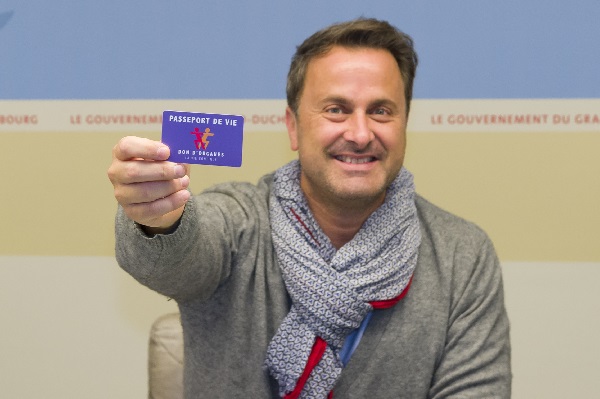 PM Xavier Bettel; Credit: © SIP / Jean-Christophe Verhaegen, all rights reserved
At today's Cabinet meeting, the Luxembourg government showed its support for organ donation by distributing "Passport de Vie" cards.
In 2018, 78 Luxembourg residents were waiting for an organ transplant, whilst 21 organs from seven donors were collected. In addition, thanks to Luxembourg's collaboration with Eurotransplant, 34 people received transplants abroad.
According to the 1982 law on the removal of organs and tissues, there is a presumption of solidarity in Luxembourg: it is considered that everyone agrees to donate organs after death, if they have not explicitly expressed their refusal. Yet, in practice, health professionals confronted with a case of a potential donor always collect the consent of relatives or family of the deceased. Many refusals are still registered by families.
It was in this context that Deputy Prime Minister, Minister of Health Etienne Schneider distributed "Passeport de Vie" cards to members of the cabinet. Card holders can express their decision regarding organ donation on these small cards and thus facilitate the work of medical teams. Minister Schneider commented: "The shortage of organs is indeed a sad reality. It is therefore essential to inform the population about this alarming situation."
An information leaflet and the "Passeport de Vie" card can be ordered free of charge via tel.: (+352) 247-85569 or downloaded from the Health Portal: www.sante.lu, and www.dondorganes.lu.