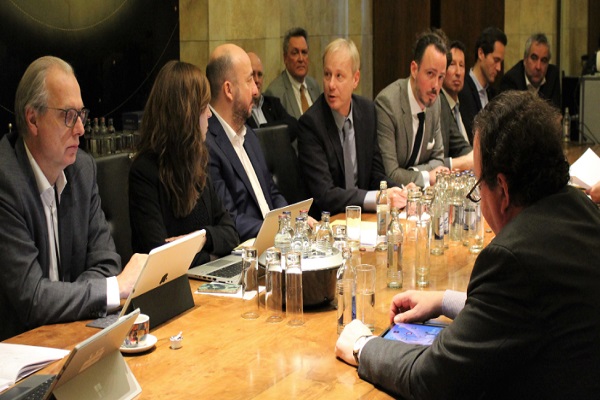 L-R: Dr. Jean-Claude Schmit, Director of Health; Anne Calteux, First Counselor of Government; Etienne Schneider, Deputy Prime Minister, Minister of Health; Dr. Alain Schmit, AMMD; Dr. Philippe Wilmes, AMMD; (in foreground): Dr. Claude Schummer, FHL; Credit: MSAN
Additional measures are being planned in order to reduce waiting times for MRI scans in Luxembourg.
Deputy Prime Minister and Minister of Health Étienne Schneider has met with representatives of Luxembourg hospitals, doctors and the Caisse nationale de santé for a first exchange of views on the challenges faced by patients who have been prescribed a magnetic resonance imaging (MRI) examination.
During this exchange, participants addressed the list of equipment and devices that, to date, cannot be acquired by doctors and dentists for the needs of their medical practice, under the Grand-Ducal Regulation of 17 June 1993, with a view to reducing waiting times for such examinations.
Minister Schneider commented: "It is particularly important to me that every patient, whose medical care requires the use of a medical imaging examination, can benefit from it within a reasonable time and in respect of quality care."
All parties agreed to continue to collaborate constructively during the new legislative period on this multi-faceted issue with a view to improving the supply of care in Luxembourg.