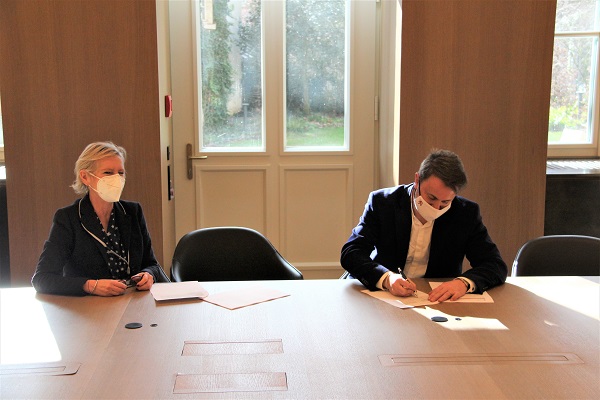 L-R: Josée Kirps, Director of ANLux; Xavier Bettel, Luxembourg's Prime Minister, Minister for Communications and Media; Credit: Ministry of State
On Tuesday 23 February 2021, Luxembourg's Prime Minister and Minister of Communications and Media, Xavier Bettel, and the Director of the National Archives of Luxembourg (ANLux), Josée Kirps, signed an agreement relating to the sorting table for documents and archives of the Media and Communications Service (Service des médias et des communications - SMC).
This agreement follows the law of 17 August 2018 on archiving, which makes it compulsory to produce a sorting table for all ministries and state administrations in Luxembourg.
According to ANLux, the sorting table ("tableau de tri") is a "list which identifies the documents produced or received by each organisation within the framework of its activity and the conduct of its business". This tool references all documents produced and received within the framework of SMC activities. It determines the period of administrative utility during which these documents are likely to be used by the service to meet legal requirements or a practical need and defines what happens to these documents at the end of this period, such as their deposit in ANLux for those with a historical, scientific, cultural, economic or societal interest in the Grand Duchy of Luxembourg.