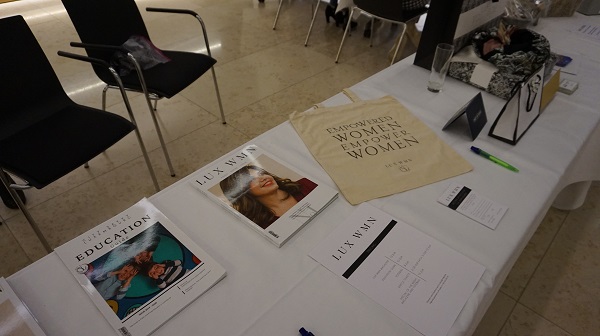 Credit: Jazmin Campbell
On Wednesday evening, the creative team behind LUX WMN, Luxembourg's first English-language women's magazine, celebrated the first issue of the magazine with its sponsors and over 50 (mainly female) guests at a launch party held at Banque Raiffeisen in Leudelange.
To celebrate this milestone, guests first had the opportunity to network over welcome drinks and purchase raffle tickets, before listening to speeches from representatives of Raiffeisen and LUX WMN.
Speaking on behalf of Raiffeisen, as host of the evening and magazine sponsor, Yves Biewer, Member of the Executive Board of Raiffeisen, emphasised the importance of having an international women's magazine in English in Luxembourg, not least due to the country's strong multicultural character. He highlighted the growth of the English-speaking community in the Grand Duchy in recent decades and the ever narrowing gap between English and French. Mr Biewer also mentioned the importance the bank places on increasing its visibility in the English-speaking world.
In their welcome speeches, LUX WMN publisher Amanda Roberts and new team members Natalie and Marina, thanked their sponsors and all the attendees for their support, especially the male minority for making a statement about equality and supporting women with their presence. Indeed, the team emphasised the need for both women empowering women, but also collaboration from all sides.
These speeches were followed by a pub quiz, featuring many women-related questions, accompanied by food to fuel participants' brains. For the quiz, guests were divided into teams according to a number they received upon entry, thus providing another networking opportunity. The winning team(s) would receive prizes offered by the magazine's sponsors, which include Raiffeisen, HIITme, BYHB- Bikram Yoga HOT BOX, Distillerie Artisanale du Musée, Philharmonie Luxembourg, Prisma S.A., Spa Escape and Concept+Partners.
The party continued with music from DJ Miss MAD and the concluded with the raffle draw, which also included prizes from LUX WMN's sponsors. Attendees also had the chance to purchase their own copy of the magazine and a tote bag at special prices.