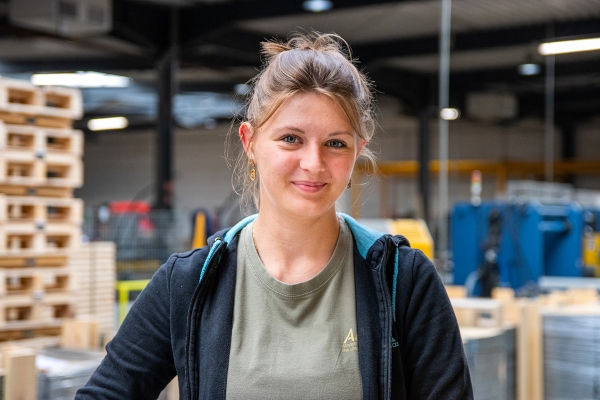 Maéva Lahousse, student; Credit: ALIPA
The ALIPA Group, a lifting and packaging specialist based in Wiltz in north-western Luxembourg, has employed around 30 students over the summer holidays this year.
Each year, the ALIPA Group hires trainees as part of their studies or student employees during the school holidays. For the 2022 period, the Group employed around 30 such students. Unlike trainees, these student employees receive a salary for their work.
The Group attaches great importance to the presence of these young people in the company, as explained by the Managing Director, Michèle Detaille: "It is our role as a business leader because, if no one agree to pass on their knowledge, how can you be surprised that they sometimes lack motivation, that they don't know what job to choose later and that they don't perform very well in their first job?".
"We can entrust the students with tasks that we do not have time to carry out, such as market studies, plans and construction of machines, etc." said Ms Detaille. "And then they force us to think about the way we work".
Elena, Aurélien, Théo, Nathaël, Antoine and Nicolas, each spent a few weeks in the workshops of ALIPA Group companies. Maéva Lahousse, for example, worked in the NO-NAIL BOXES workshop. She is 19-years old and is a human resources student. She helped operators in the manufacture of collapsible plywood boxes. "I worked in different positions, which was good. What I also appreciated was the good understanding between the workers and the fact that I was never left without instructions. I was always given tips and tricks to complete tasks more easily," she explained.
The ALIPA Group is made up of six companies active in lifting and packaging: CODIPRO (articulated lifting rings), NO-NAIL BOXES (folding plywood and steel boxes for industry), AllPack Services and WaluPack Services (packaging industry), LIFTEUROP and STAS (lifting equipment and accessories). ALIPA Group companies employ around 150 people in the Grand Duchy of Luxembourg, Belgium and France.