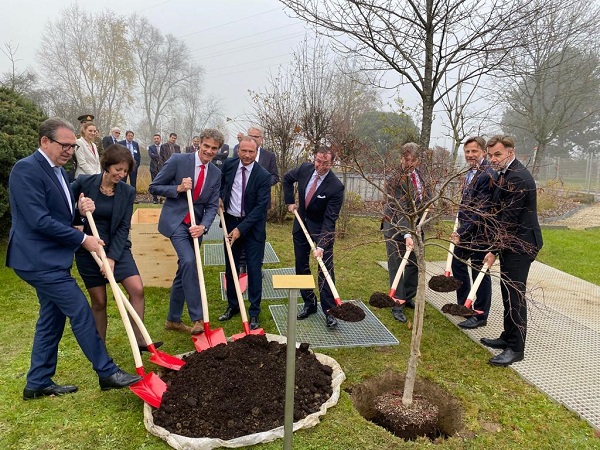 Credit: MECO
On Friday 12 November 2021, His Royal Highness the Hereditary Grand Duke of Luxembourg and the Minister of the Economy, Franz Fayot, visited the premises of Ceratizit in Mamer on the occasion of the group's 100th anniversary; the Mayor of Mamer, Gilles Roth, was also present.
Ceratizit is a pioneer in the market for carbide products and in the field of hard material applications for cutting and wear protection. The company develops and manufactures highly specialised cutting tools, hard material bars and wearing parts. The Ceratizit group is the result of the merger of Cerametal with Plansee Tizit in 2002. Cerametal was founded in 1931 in Luxembourg while Plansee was founded in 1921 in Austria. In March 2021, Plansee became the majority shareholder of Ceratizit; 2021 thus marks 100 years of existence and expertise of the group. 1,300 people are employed by Ceratizit in Luxembourg, while the group has more than 7,000 employees at 25 production sites around the world.
Ceratizit's activities are strongly focused on research and innovation. The group holds more than 1,000 patents and utility models and the company is constantly developing new applications and innovative materials for a wide range of machines and tools, especially for woodworking and stoneworking. The Ministry of the Economy regularly supports the company's research projects through research and development (R&D) aid.
After a presentation of the company including a retrospective of the activities of the group during its 100 years of existence, participants attended a guided tour of the premises of the company and discovered the different production lines and some research equipment. Next, a tree was planted near the main entrance to the site, accompanied by a commemorative plaque, to mark this occasion.
In his speech, Economy Minister Franz Fayot stated: "In the space of a century, Ceratizit has experienced remarkable development and has demonstrated its ability to meet the growing challenges. which arise in any industrial activity. Thanks to a vision strongly focused on investments in R&D and innovation, the know-how of this emblematic company of Luxembourg industry is internationally recognised and contributes to Luxembourg's influence abroad".
Thierry Wolter, member of the Board of Directors of Ceratizit, added: "We are proud of our 100 years of experience and knowledge. After all, it's a fruitful combination of thinking about the future and a passion for novelty. This experience forms the basis for the development of intelligent and state-of-the-art carbide products, which allow Ceratizit's customers to face the challenges of tomorrow with peace of mind and to benefit from first-class solutions and services today".