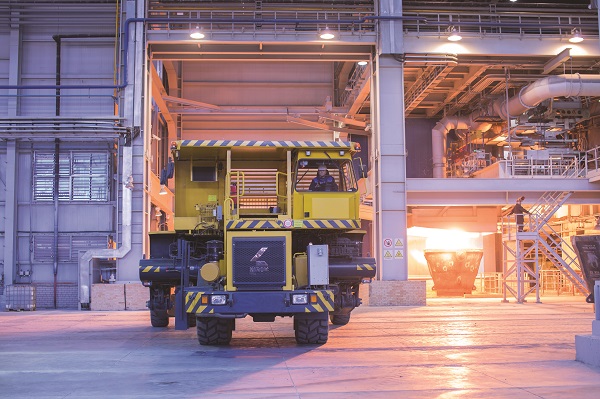 Kazchrome; Credit: ERG
TNC Kazchrome JSC (Kazchrome), the world's largest high-carbon ferrochrome producer by chrome content and a subsidiary of Eurasian Resources Group (ERG), a leading diversified natural resources group headquartered in Luxembourg, has achieved a new production record.
In 2020, its 25th anniversary year, Kazchrome manufactured 1.84 million tonnes of ferroalloys, which is a 1.7% increase from the already high base of 2019.
Serik Shakhazhanov, Chairman of the Management Board of Eurasian Group LLP, which manages ERG's assets in Kazakhstan, noted: "We are proud to have achieved a record-breaking ferroalloys output and have met our production targets, all against the backdrop of such a challenging year. Kazchrome has demonstrated steady output growth, stemming, above all, from its successful business plan implementation".
Arman Esenzhulov, President of TNC Kazchrome JSC, said: "The company is working to implement several strategic initiatives aimed at boosting ferroalloys production. We are also taking steps to provide a steady and reliable supply of raw materials to our ferroalloy plants. Donskoy GOK is implementing a strategic project to build the second phase of the 10th Anniversary Mine. We seek to introduce the best innovative solutions and best practices and to generate our own ideas in order to make sure that our company remains agile and competitive".
Mr Esenzhulov added: "In 2020, Kazchrome had to use the funds intended initially for its 25th anniversary celebrations to dedicate itself to the fight against COVID-19. Kazchrome invested in medical supplies for employees and their families and delivered essentials to medical centres. It is worth noting that, despite the challenges posed by COVID-19, Kazchrome fulfilled its production targets".
Over the past quarter of a century, Kazchrome has manufactured around 31.2 million tonnes of ferroalloys in total, having a strong and diversified customer base which included leading stainless steel producers in China, Japan, Southeast Asia, the United States of America and the European Union. In 2020 alone, more than 1.7 million tonnes of ferroalloys were exported.
ERG noted that this historic record would not have been achieved were it not for the special role played by the late Alijan Ibragimov in the development of Kazchrome. Mr Ibragimov, who was the co-founder, shareholder and member of the Board of Directors of ERG, passed away on 3 February 2021 at the age of 67. He headed TNC Kazchrome JSC from 2002 to 2007 and under his leadership, the operation became the world's second largest company in terms of chrome ore reserves and production, as well as the world's third largest ferrochrome producer. Setting into motion the process of vertical integration at ERG, Mr Ibragimov oversaw the consolidation of the Aksu and Aktobe ferroalloy plants and Donskoy Ore Mining and Processing Plant, which led to the creation of TNC Kazchrome JSC.