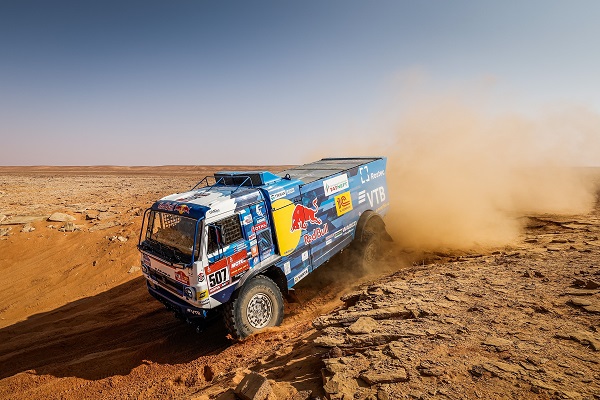 Credit: Goodyear
Goodyear, a tyre manufacturer with an "innovation centre" in Colmar-Berg in Luxembourg, reported that the KAMAZ-master factory team has once again won the toughest rally in the world, the Dakar Rally, equipped with Goodyear tyres.
Not only did the KAMAZ-mastor team win the twelve-day rally-raid for the eighteenth time, but they also managed a full TOP 3 podium win, breaking more than one record with Goodyear as their official tyre partner.
The event marked Dmitry Sotnikov's first Dakar Gold since his first participation in the race in 2014. Together with co-driver Ruslan Akhmadeev and mechanic Ilgiz Akhmetzianov, Crew N° 507 took the lead as of Stage 1 and never left its leading position in the general rankings, obtaining five out of twelve stage victories during the 2021 edition. Anton Shibalov of crew N° 501, reconfirmed his Dakar Silver for the second time in a row just 00H 41' 38" behind teammate Sotnikov. Dakar veteran, Airat Mardeev and crew N° 509 was awarded bronze (+01H 16' 35").
The Dakar is called by many the toughest rally in the world and this year's edition honoured its title. Vladimir Chagin, team manager of KAMAZ-master, explained: "The Dakar can never become a routine and demands meticulous preparation, disciplined clockwise operations and outstanding teamwork". He added: "Besides our advanced in-house developed truck technology, there is one vital part to keep the crews going, robust tyres. Speed is of the essence; however, uptime is even more important in order to stay ahead of the competition. With Goodyear as our trusted tyre, our teams count on the extraordinary durability and excellent traction of the standard Goodyear OFFROAD ORD tyres to support them getting victoriously to the next finish line, no matter how unexpected the circumstances or how big the challenge is".
Maciej Szymanski, Marketing Director for Goodyear Commercial Europe, commented: "Without any doubt, the performance of our tyres was tested to the maximum being the only touchpoint to this year's entirely new route. Their robust durability, cut resistance and enhanced traction are key to the immaculate performance of the team, in the same way as we support today's demanding transport operations of our customers".
Goodyear, which is also an exclusive tyre partner of the FIA European Truck Racing Championship, is known to test its standard road going product ranges under very extreme usage conditions. In particular, the endurance of its advanced carcass technology is a key testing criteria directly contributing to increased uptime, enhanced overall mileage performance and extending the tyre service life, supporting the industry's sustainable transportation objectives.