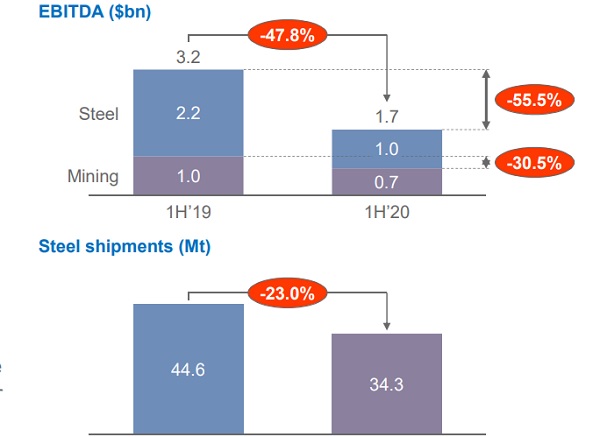 On Saturday 1 August 2020, ArcelorMittal published its half-year report for the six-month period ended 30 June 2020.
Highlights:
- Health and safety: Protecting the health and wellbeing of employees remains the Company's overarching priority; LTIF rate2 of 0.77x in 2Q 2020 and 0.91x in 1H 2020
- Operating performance in 2Q 2020 reflects the negative impact of the COVID-19 pandemic primarily on the steel business, with reduced demand leading to a 23.7% sequential reduction in steel shipments (1H 2020 shipments 23% lower YoY)
- Operating loss of $0.3bn in 2Q 2020 includes $0.2bn exceptional items (1H 2020 operating loss of $0.6bn includes $0.8bn impairment and exceptional items3)
EBITDA of $0.7bn in 2Q 2020 (1H 2020 EBITDA of $1.7bn)
- Net loss of $0.6bn in 2Q 2020 (1H 2020 net loss of $1.7bn, with adjusted net loss of $0.9bn excluding impairment and exceptional items3)
- Free cash outflow was limited to $0.4bn (net cash provided by operating activities of $0.9bn less $1.3bn capex) in 1H 2020 and included a working capital investment of $0.5bn
- Gross debt of $13.5bn and net debt of $7.8bn as of June 30, 2020 (down $2.3bn vs June 30, 2019) the lowest level achieved since the ArcelorMittal merger
- Liquidity at the end of 2Q 2020 stood at $11.2bn (consisting of cash and cash equivalents of $5.7bn and $5.5bn of available credit lines5)
Outlook:
- While the speed and trajectory of the demand recovery post the COVID-19 pandemic remain uncertain, ArcelorMittal's core markets are showing signs of recovery from exceptionally low levels
- The company will continue to align production levels to demand, with the ability and flexibility to restart hot idled capacity as the recovery progresses
- Against the exceptional operating backdrop, the Company has taken a comprehensive series of actions to reduce all costs to protect profitability and cash flows. While these actions will continue, the Company is now developing its options for structural cost improvements to appropriately position the fixed cost base for the post COVID-19 operating environment, with more details to be announced with full year results
- The company continues to expect certain cash needs of the business to be approximately $3.5bn in 2020 and remains focused on its FY 2020 $1bn working capital efficiency target
- Achievement of its $7bn net debt objective remains a priority, at which point the Company expects its capital allocation focus to shift from deleveraging towards cash returns to shareholders
- The company's $2bn asset portfolio optimization program continues to progress, and with suitable and viable buyers having expressed serious interest in certain assets, the Company remains confident in completing the program by mid-2021
- The company's European climate action report detailed the Smart Carbon and an Innovative DRI-based technology routes to reduce the European business carbon emissions by a targeted 30% by 2030 before reaching net zero in 2050
Lakshmi N. Mittal, ArcelorMittal Chairman and CEO, said "The first six months of the year, and particularly the second quarter, have been one of the most difficult periods in the history of the company, with demand for steel considerably disrupted by the COVID-19 pandemic. I would like to thank our employees across the globe, who have demonstrated great resilience and strength of character to first look out for one another and then maintain operations to meet customer demand in these most challenging of environments. As a group we responded swiftly to protect our people, assets, profitability and cashflow, ensuring the Company is in as strong a position as possible to weather this very challenging period. We implemented a comprehensive range of measures that include reducing production, capex and fixed costs, as well as raising capital to further strengthen the balance sheet which has taken our net debt close to the level at which we will prioritise returns to shareholders."
He added "There are now signs of activity picking up, especially in regions where lockdowns have ended, but clearly it is prudent to remain cautious about the outlook. Against this context, we are examining what structural changes might be required to ensure the Company is well configured to prosper in the coming years as demand recovers. It has also become clear in recent months that governments around the world will align efforts to stimulate the economic recovery with the transition to a low carbon economy. ArcelorMittal recently published its roadmap to reduce emissions by 30% in Europe by 2030 and we were encouraged to see last week's proposal by the European Council to introduce a carbon border adjustment. Technologically we know that it should be possible to produce carbon neutral steel, but success is co-dependent on policy, of which the carbon border adjustment is an important component, as is access to EU funds."
"In conclusion, it has been an unexpectedly challenging period for everyone. The remainder of the year will no doubt continue to be challenging but I believe we are well prepared to increase production and capture the improvement in demand when it comes" he concluded.