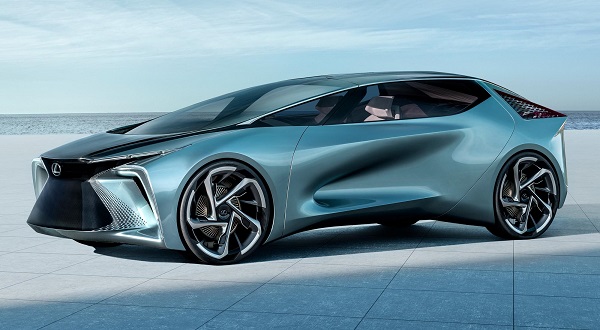 Goodyear, a tyre manufacturer with an "Innovation Centre" in Colmar-Berg in Luxembourg, has fitted the Lexus LF-30 Electrified with its aerodynamic and silent concept tyre.
Representing Lexus' new vision of vehicle electrification, the Lexus LF-30 Electrified concept celebrates the brand's 30th anniversary and is designed to promise a dynamic driving experience like no other. This unique concept vehicle was originally presented sitting on four bespoke Goodyear concept tyres at the 2019 Tokyo Motor Show. It was presented again on Tuesday 3 March 2020 at Lexus' live press conference during the Virtual Press Day of the 2020 Geneva International Motor Show.
Goodyear's concept tyres developed in the Colmar-Berg Innovation Centre are tailor-made to benefit the modern, sleek and sporty design of the Lexus. They support electric vehicle (EV) motors and are designed to improve the overall comfort and performance of the car.
"We are proud to have worked on this project with Lexus, a company that has been pioneering innovations in mobility for 30 years", explained Mike Rytokoski, Vice-President and Chief Marketing Officer at Goodyear Europe. "This collaboration demonstrates once again the critical role tyres can play in shaping the future of electric mobility".
The LF-30 Electrified concept tyre includes several innovative features, such as EV motor cooling, reduced aerodynamic drag and noise reduction through biomimicry.
Goodyear's concept tyre for the Lexus LF-30 Electrified concept comes in a 285/35R24 size.