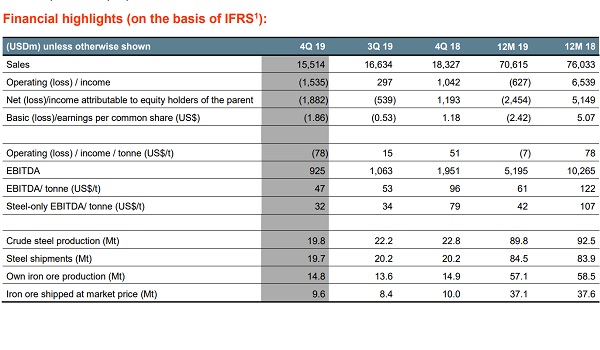 Financial highlights; Credit: ArcelorMittal
Luxembourg-headquartered ArcelorMittal, the world's leading integrated steel and mining company, today announced results for the three-month and twelve-month periods ended 31 December 2019.
Against a challenging market backdrop in 2019, ArcelorMittal generated USD $2.4 billion free cash flow (net cash provided by operating activities of $6.0 billion minus capex of $3.6 billion) and reported a net loss of $2.5 billion (adjusted net income of $0.3 billion, excluding impairment and exceptional items).
The company ended the year with gross debt of $14.3 billion and net debt of $9.3 billion (lowest level since the merger); it is now targeting achievement of the $7 billion net debt objective by the end of 2020. ArcelorMittal achieved a further $0.4 billion of Action2020 gains, with identified new cost improvement opportunities totalling $1 billion to be targeted in 2020.
2019 also saw the steel company complete the acquisition of Essar Steel India in partnership with Nippon Steel.
Looking forward to 2020, ArcelorMittal has reported that there are signs that the real demand slowdown is beginning to stabilise and that the supportive inventory environment could see apparent steel consumption in the company's core markets grow this year. Nevertheless, certain cash needs of the business are expected to amount to approximately $4.5 billion (compared to $5.0 billion in 2019, a decrease that is primarily due to lower planned capex).
Commenting on these results, Lakshmi N. Mittal, Chairman and CEO of ArcelorMittal, said: "2019 was a very tough year, clearly reflected in our significantly reduced profitability. However, our cash generation remained strong helping to reduce net debt to the lowest ever level". He continued: "Maintaining a strong balance sheet and reaching our net debt target is a clear priority for ArcelorMittal. Having now completed the acquisition of Essar Steel India in partnership with Nippon Steel, we have also secured a new opportunity for the group in the fast-growing Indian market. The asset is performing well and offers considerable brownfield potential aligned with the country's ambition to triple crude steel production over the next ten years".
Mr Mittal added: "We also continue to invest strategically in research and development, including lower carbon steel-making processes and low carbon products. [...] In this regard we are encouraged by the position adopted by the new European Commission, including their support for a carbon border equalisation".
The Chairman and CEO of ArcelorMittal concluded: "Although market conditions remain challenging, there are encouraging early signs of improvement particularly in our core markets of US, Europe and Brazil. With inventory levels having reached a very low level following a period of de-stocking, we are seeing customers return to the market, supporting an improved pricing environment".
To view the full results, see https://corporate.arcelormittal.com/investors/results.