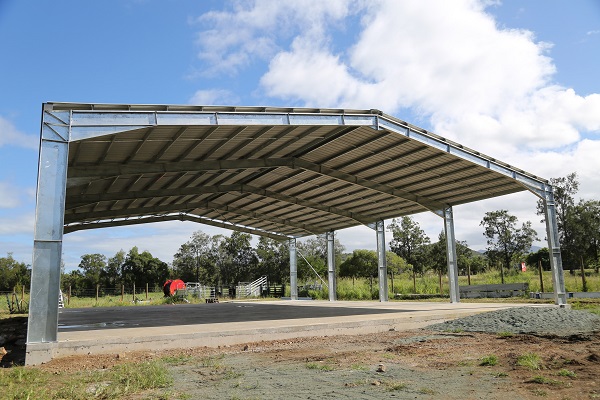 The Luxembourg company specialising in the sale of metal buildings over the Internet has announced that is moving to new premises in Bertrange following a 90% growth in business over the past five years.
The company has been following a very positive growth curve since its creation in 2001; in 2019, it signed a major contract with Lafarge in the Ivory Coast and invested in new premises in Luxembourg to consolidate its expansion.
+ 90% increase in turnover in 5 years
The history of Batimentsmoinschers.com / Easysteelsheds.com began in 2001, the year the company was created, but took off in 2009 with the launch of the batimentsmoinschers.com website. Selling metal buildings via the Internet based on a quality product and at competitive prices – this is the promise of the company created and managed by Dominique and Vincent Lyonnet.
In 2017, with constantly increasing development, and while it was selling more than 1,000 buildings per year, the company decided to seek the support of Nextstage, a private equity fund that invests in minority capital, in order to continue the growth of the newly formed group (Steel Shed Solutions). Today, Batimentsmoinschers.com / Easysteelsheds.com carries out more than 1,600 transactions per year. These include 1,200 buildings sold, and approximately 400 transactions related to the sale of metal parts through the Group's new brand, tolesmoinscheres.com, which targets both professionals and individuals.
25% of export sales in Africa and a contract with LafargeHolcim, Ivory Coast
Since its first sale of buildings via the Internet in Africa in 2010, the company has continued to expand in this territory and is active in more than 20 countries on the African continent in the infrastructure creation markets. In early December 2018, Batimentsmoinschers.com / Easysteelsheds.com signed a major contract with LafargeHolcim, the end customer, to purchase a 7,500 m2 building. Designed to house a cement plant, the building was shipped in January 2019 to Bouaké, Ivory Coast.
"Our participation in the Luxembourg delegation of the Chamber of Commerce in Ivory Coast and Ghana in 2018 has enabled us to continue the exchanges already initiated with this client" said Vincent Lyonnet, Sales and Marketing Director.
2019: new premises and new employees
In February 2019, the company moved to new premises located on rue Pletzer in Bertrange. The 700 m2 of space will now be able to accommodate the company's 40 employees operating in Luxembourg, and even more, as the business intends to continue to grow. The rest of the Batimentsmoinschers.com / Easysteelsheds.com team, about 20 people dedicated to logistics, is based in France. With a turnover of more than €28 million in 2018, Batimentsmoinschers.com / Easysteelsheds.com is one of the most promising scale-up companies in Luxembourg and intends to continue to grow.