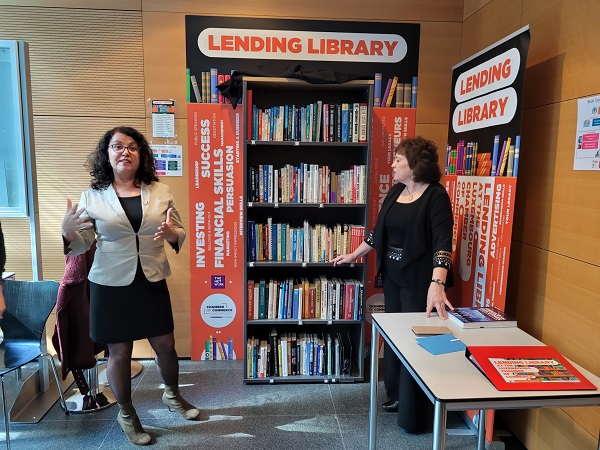 L-R: Mariana Florea, President of The NETWORK; Cindy Wilson, former President of The NETWORK, who donated her books to this project; Credit: Jazmin Campbell / Chronicle.lu
Friday afternoon saw the launch of a new English-language "Lending Library" at the Luxembourg Chamber of Commerce.
Sponsored by The NETWORK and the Luxembourg Chamber of Commerce, this lending library initiative is the first small step in making English-language business books available to students, small business owners and aspiring entrepreneurs in Luxembourg.
The current single bookcase is located in the corner of the cafeteria (on floor -1) in the Chamber of Commerce in Luxembourg-Kirchberg (7 Rue Alcide de Gasperi, L-1615) and offers open access to about 150 books. The vision is that it will grow to multiple bookcases to support personal development and business knowledge.
The launch celebration on Friday included lunch (and crémant) and collaborative activities to introduce the initiative and the books' themes. About 30 representatives of several organisations participated in this networking event.
Anne-Marie Loesch, Head of Business Development & CSR at the Luxembourg Chamber of Commerce, explained how Lisa Francis-Jennings (former President of The NETWORK) had approached the Chamber of Commerce on behalf of The NETWORK with the idea of launching an English-language lending library and how the initiative was "closely linked" to the main mission of the Chamber of Commerce, namely to develop professional knowledge and skills as well as to support entrepreneurs.
As Anne-Marie noted, the books donated by Cindy Wilson, another former President of The NETWORK, cover various topics "from leadership to business creation, financial skills and communication, personal development… everything that you need for your professional journey". The current book sections encompass the business life cycle, including life coaching, entrepreneur skills and starting a business, the job search and interviewing skills, promotions, negotiation, public speaking and presentation skills.
"This is a perfect fit, especially since we are also a meeting place here", Anne-Marie continued, adding that the project was "aligned with what we [the Chamber of Commerce] want to achieve with our CSR strategy". This corporate social responsibility strategy focuses on partnerships, such as this one with The NETWORK, and impact, in this case making pre-loved books available to others who may use, reuse, share and talk about them.
Anne-Marie later thanked her team at the Chamber of Commerce for helping make this project a reality.
Cindy Wilson, whose idea (and books) led to the development of this project, said: "Today is really the realisation of a wish. It was encouraged and supported by The NETWORK and made a realisation by the Chamber of Commerce". She explained how the project had begun over a year ago when she was preparing to move house and realised she had too many books from past stages of her career. "I thought they're just too precious to discard. They were really valuable at one point of time, but I didn't know what to do with them", she recalled. Then, as part of its 30th anniversary celebrations in 2021, The NETWORK invited past presidents (including Lisa and Cindy) to speak at an online event about the evolution of the non-profit organisation. Cindy told Lisa about her book collection and how she wished there was a place to put them where they could be used and benefit others. Lisa began searching for "the right home" for the books, reaching out to several organisations, but it was the Chamber of Commerce that "stepped up and welcomed the entire collection and the project", noted Cindy.
"This is really a great example of the Luxembourg business community working together to create something that can benefit others", Cindy continued. "And all it took was a few books and an idea, The NETWORK to create the catalyst for people to connect and get together and create the initiative for the idea to go forward, Lisa in her unwavering dedication to finding the right home, the Chamber for stepping up and hosting the collection as well as giving us the bookcases and being willing to let it expand in the future".
Referring to the fact that there is just one bookcase at present, Cindy stated: "We want to recognise that this is celebrating a very small start". She encouraged everyone with previously used English-language business books to donate them or spread the word to those who might want to donate in order to create more bookcases.
"As you can see, wishes really can come true [and] I think they expand as well. So, we're looking forward to that and we want to thank all of you for celebrating with us today", concluded Cindy.
Mariana Florea, President of The NETWORK, then presented The NETWORK, Luxembourg's oldest international professional business women's association, which organises a variety of monthly events, along with some of its board and committee members who were present at the launch.
The event continued with activities led by Lisa, aimed at piquing the guests' interest in specific books, followed by lunch and the big reveal of the Lending Library.
Those wishing to avail of this service should sign the book sign-out register on site to log their book removals and returns; they are asked to borrow a maximum of three books at a time and to safeguard the books to ensure they are returned (preferably within two weeks) in the same condition as they found them. A complete book list binder can be found on the upper shelf.
Anyone wishing to donate books (which fit the Lending Library's topics) to add to this collection can place the books in the designated donation shelf area for future processing.