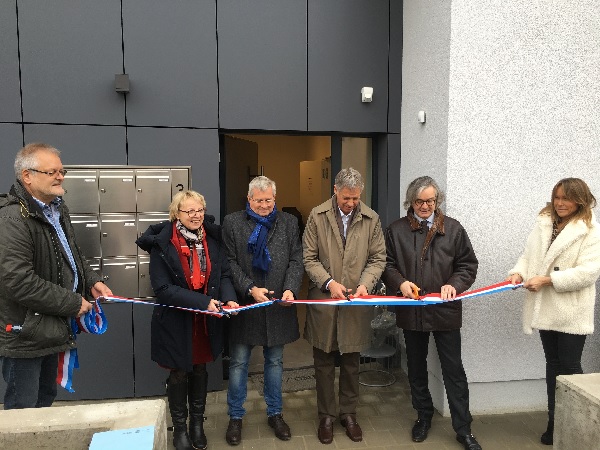 Résidence Cécile Ginter inauguration; Credit: Fondation Cécile Ginter
The Fondation Cécile Ginter has announced the inauguration of nine new rental social housing units in Differdange in south-western Luxembourg.
Monday morning saw the inauguration of Résidence Cécile Ginter in Differdange, in the presence of Luxembourg's Minister of Housing, Henri Kox. The residence has nine rental social housing units offering affordable housing for nine families in need.
The residence bears the name of the benefactor Madame Cécile Ginter who, through her legacy and foundation, helped to build this residence in the Cité O' in Differdange. During her lifetime, Cécile Ginter paid particular attention to the fact that people can live in dignity. Today, the Fondation Cécile Ginter continues this mission through projects combatting hunger in Luxembourg and the wider world, as well as the fight against the crucial lack of social rental housing in Luxembourg.
During her speech, Bernadette Reuter, President of Fondation Cécile Ginter, said: "Vulnerable or low-income people or families must also have access to decent housing and a better social life".
The AAA energy class building comprises a total of nine units ranging in size from 75 m2 to 80 m2. Two of these dwellings are larger (102 m2 and 123 m2) and are reserved for large families. The residence is located in a new subdivision near many amenities.
Philippe Streff, secretary general of the foundation, commented: "We want to make life easier for future tenants, often isolated by the precariousness in which they live, and allow them to re-establish links in a context of social mix. We are counting on the City of Differdange, already very sensitive to the problem of housing and precariousness, to make the link, but also to the parish and associations".
Housing will be rented to people in need, for instance single-parent families, people in inadequate housing, homeless people and refugees, caccompanied by Caritas Luxembourg.
The total cost of the construction project is €4,400,000 (including 17% VAT). The project was carried out by Prom-Sca and was supported by the Ministry of Housing, which covered 75% of the total cost of the project (ie €3,300,000) .
The Fondation Cécile Ginter is involved in the construction of two other residences in Ettelbrück and another project is planned for Mersch.